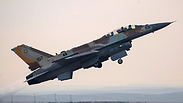 Photo: Archive/EPA
Photo: EPA
The Israeli Air Force attacked an infrastructure target in Gaza early Thursday morning in response to a rocket that was fired from the Palestinian enclave just after 2am local time.

Residents said that a passerby was lightly hurt in the Gaza Strip. None of the Strip's militant organizations initially claimed responsibility for the early morning rocket attack on Israel.

The rocket set off code red sirens in Zikim, parts of Ashkelon city and the Hof Ashkelon Regional Council, earning a response from an IDF spokesperson who said Israel holds Hamas responsible for such incidents.

No damage or injuries were reported as a result of the Gazan missile that landed in an open area in the Hof Ashkelon Regional Council. Security forces are still searching the area to find the projectile.

"The IDF considers this incident a severe one," said an IDF spokesperson in announcing the retaliatory attack on Gaza. We won't put up with any attempt to harm Israeli civilians. Hamas is the address of responsibility."

Rocket fire on southern Israel has been on the rise over the past several weeks, including an incident in which ISIS affiliated militants in the Sinai Peninsula fired on Israel.

Reuters contributed to this report.