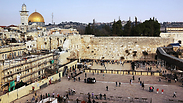 Deputy Foreign Minister Tzipi Hotovely has instructed the ceremony division of the Foreign Ministry on Thursday to stipulate that any future visit by a foreign head of state or foreign minister include a trip to the Western Wall.

The current protocol requires foreign dignitaries to visit the Yad Vashem museum, and the grave of Theodor Herzl. "This is a statement of intention which strengthens the position of Jerusalem as the capital of Israel," Hotovely said.

Although the possibility of visiting the Western Wall would come up in talks preceding prior visits, there was never an official Israeli demand that a visit to site be included in the official protocol. According to estimates, about half of all official visits in Israel included a trip to the Western Wall, typically without a Foreign Ministry escort, while others politely refused due to the controversial nature of the site.

That said, the Foreign Ministry has typically required foreign dignitaries visit Yad Vashem in Jerusalem, and lay a wreath at Herzl's grave (as of 2009) – all in addition to the standing diplomatic protocol which includes an official reception and state dinner.

Deputy Minister Tzipi Hotovely said that when she entered her current position, she was shocked to discover that the Foreign Ministry had not required that foreign dignitaries visit the Western Wall as part of the protocol, even though it lies in the "center of the Israeli consensus."

In a meeting with the outgoing head of the Foreign Ministry's Ceremony Division, Talia Lidor Persher, and the division's new head, Myron Rueven, she instructed that the Western Wall be added to the list of sites that every foreign official must visit. The requirement won't be upheld in the case of officials on short working visits.

"In my eyes, the fact that the Western Wall will become part of every VIP's official visit, is tantamount to a statement of intention which strengthens Jerusalem's position as the capital of Israel," Hotovely said. "The visit will take the dignitary from the ethos of Yad Vashem, which deals with the catastrophic past of the Holocaust, to the new and more positive ethos which speaks to the roots of the city. It expands the Zionist scope of the trip from 100 years to 3,000 years."

Hotovely said that she has taken into account that someone dignitaries will refuse to visit the site. "If they will refuse, we will try to convince them. The real change is that the Western Wall was never a priority for the Foreign Ministry until today."

The first official to be offered the Western Wall visit under the new protocol is the Prime Minister of Italy, Matteo Rantzi, who will arrive in Israel for an official visit next week. Hotovely will receive him at the airport, and has stated that she will personally escort him through a tour of the Western Wall and Old City.