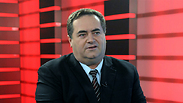 Transportation Minister Yisrael Katz. 'Strengthening Israel's relations with Japan'
Photo: Yaron Brener
A new agreement between Israel and Japan may soon lead to direct flights from Tel Aviv to Tokyo.

The aviation agreement signed last week during talks held in the Japanese capital will allow the introduction of a regular route between the two countries – both for Israeli and Japanese airlines.

Open Skies

Irish low-cost company to offer flights from Budapest and Krakow to Ovda Airport near Eilat. 'It's not profitable for us to fly to Tel Aviv,' commercial director explains.

Currently, there are no direct flights from Japan to Israel apart from several charter flights which bring to the Holy Land organized groups of workers from a seaweed factory. The flights leave from Osaka to Tel Aviv, and on their way back the empty planes carry Israeli groups to organized tours in the Land of the Rising Sun.

Most Israeli passengers who travel to Japan today do it through connecting flights from Hong Kong or Seoul.

The Tokyo talks were attended by Joel Feldschuh, director-general of the Civil Aviation Authority of Israel (CAAI), and other CAAI officials, and their Japanese counterparts. They reached an agreement that would allow the operation of up to 14 weekly flights in each direction.

They also agreed to lift certain restrictions, such as the option to only operate direct flights between Tel Aviv and Osaka. From now on, the airlines will be permitted to fly to Tokyo and other cities in Japan as well.

Yedioth Ahronoth has learned that the talks were also attended by representatives of Japan's biggest airlines – Japanese Airlines, All Nippon and others – who expressed a lot of interest in introducing a route to Israel.

According to Tourism Ministry figures, about 13,000 tourists and businesspeople arrived in Israel from Japan in 2014.

Transportation Minister Yisrael Katz confirmed the details on Wednesday, defining the new aviation agreement as "really good news".

"This agreement is a direct continuation of my policy to open the skies," Katz added. "I believe that adding destinations in Japan itself, as well as flights, will increase the number of tourists arriving in Israel in the near future. The agreement is also an important component in the government's policy to strengthen Israel's relations with Japan."