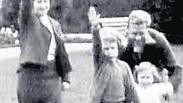 British tabloid "The Sun" released an old family video Saturday, showing Queen Elizabeth at age seven, repeatedly thrusting her arm forward in the Nazi salute.

Royal family

The video from 1993 shows the Queen with her mother, sister and aunt who also perform the stiff-armed salute.

"The Sun" did not reveal how or where they found the video, but its authenticity was confirmed by a Buckingham Palace spokesperson who said the royal family was, "very disappointed" that the clip was published.