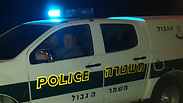 Photo: Roee Idan
Photo: Roee Idan
A 28-year-old resident of Ramle was arrested Sunday morning after trying to flee the scene of a crime in an unmarked police vehicle with an officer sitting in the driver's seat.

The suspect reportedly threw himself in the back of the car yelling, "Drive, drive!" The detective in the driver's seat arrested the confused individual and did drive - straight to the police station.

The incident followed a call to police dispatchers from a woman who said she saw someone apparently trying to break into a home in the area. While detectives arrived and checked the building, the suspect had already passed onto another home.

At some point during the search, the suspect was aware enough to realize that someone was looking for him, but not aware enough to notice that he fled straight into a detective's vehicle.