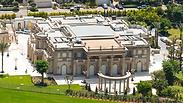 Photo: Israel Bardugo
Photo: Israel Bardugo
Three years after Ynet reported on the mansion expected to be built by Russian-Jewish oligarch Valery Kogan in Caesarea, not far from the Prime Minister's residence, it seems that construction is nearing its end.
It is made of seven huge houses adjoined to each other, built on a prestigious street in the exclusive city, and is estimated to be worth a half a billion shekels. Ynet has received the first photos of the opulent castle.
The estate that Kogan is building in Caesarea is likely to be one of the most expensive and luxurious in the Middle East. The size of the living room itself is 500 square meters, and whoever enters it can look at the stars through a large glass dome surrounded by marble columns. The estate also includes sports fields and a gold-plated fence.
Out of the 11 dunams on which the estate is spread out on, about 5,000 square meters of built-up area contains two huge, two-story buildings.
One building is residential, while the other building is to be a spa the size of a country club with a blue glass dome, which will include, among other things, a turkish hammam and an indoor swimming pool in a hall decorated in Italian marble.
Just like the outside, the opulence will dominate every corner: columns, arches and engravings, an ancient Greek marble column in the lobby, spacious staircases with magnificent railings and statues and artwork are just a small part of the complex.
A private internal road will lead to the estate with a magnificent square, which will be surrounded by sports fields, gardens and orchards. Kogan would not require the services of the electric company as the home will have its own underground electric system.