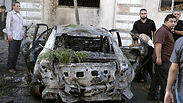 The scene of the explosion
The bombings of six Hamas vehicles Sunday morning in Gaza City, are likely to reignite the ongoing struggle between Hamas and Salafist elements in the Strip, with Israel unwillingly being drawn into the conflict.

Four of the destroyed vehicles belonged to Hamas military wing members, and the rest belonged to Islamic Jihad military wing members. The charred vehicles were parked outside the houses of the local officials in Gaza City's Sheikh Radwan neighborhood. The attacks, committed in the heart of Hamas territory, showed a high level of professionalism due to the expertise needed to make the devices, plant them discreetly, and activate them.



Witness Khader Mahmoud said the blasts occurred seconds apart from each other just after 6 am.

The Hamas Interior Ministry, which includes the security forces, released a statement saying that "terrorists" had conducted the attack, and that they would bear the punishment. The statement did not identify any specific group, however.

Witnesses said a freshly painted Islamic State group flag was seen at the site of the explosions.

No organization has officially claimed responsibility for the bombings, but it seems like the culprits are the same Salafist groups behind other recent bombings throughout the Gaza Strip, which were committed in response to a wave of Salafist arrests by Hamas. Just last week, Hamas arrested two Salafists during Eid al Fitr prayers in the northern Gaza Strip. The arrests infuriated the Salafist groups.

The Salafists understand that the best way to pressure Hamas is by occasionally shooting rockets at Israel, which warrants an automatic response from the IDF leading to the destruction of Hamas facilities, because Israel sees Hamas as responsible for any fire emanating from Gaza. Hamas has stepped up its arrests in response and continues to arrest militants involved in the rocket fire, including central figures in the Salafist groups.

Until recently, the Salafist bombings have targeted public infrastructure, like banks or western cultural centers, but it seems that the bombers have refocused their attention to attacking Hamas and Islamic Jihad operatives. Past experiences indicates that Hamas will most likely respond with more arrests against the groups, leading to an endless cycle of tit-for-tat.

According to current polls, 12 percent of Gaza residents support and identify with the Salafists and the Islamic State's ideology. Hamas is doing everything in its powers to isolate and minimize the extent of the public's support for the Salafists, in order to prevent their growth to the point of posing a real threat to Hamas rule in Gaza.