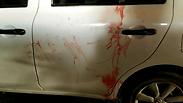 From the scene of the attack on Malachi Rosenfeld.
Photo: Tazpit
In the wake of Sunday's arrest of a Hamas terror cell, it emerges that Malachi Rosenfeld, who was apparently killed by its members last month, was the sixth Israeli victim of terror attacks carried out by former Palestinian prisoners who were freed in the 2011 Shalit prisoner exchange deal.

Israeli security officials have said that the mastermind of the attack was Ahmad Najar a resident of Jordan who was released in the Shalit deal.

Since 2014, six Israelis have been killed incidents involving those released during the Shalit deal - perhaps fewer than some feared, but enough to throw Israel's policy of prisoner release back into doubt.

Security officials are hesitant to discuss the matter. They do point out however, that those released in the Shalit deal who have returned to militant activity, have done so in different roles and capacities than before.

None of those officials have disputed that the Shalit deal may have increased motivation within Hamas to abduct Israelis, particularly soldiers and minors, as a bargaining chip to raise the organization's profile in the West Bank.

Dozens of abduction attempts have been reported in the West Bank since the Shalit deal, most of which were pre-empted by intelligence and arrests by the Shin Bet.

The IDF has closely followed those released in the Shalit deal and 39 of them were arrested among the 53 former prisoners that were returned to Israeli jails during Operation Brother's Keeper in the summer of 2014.