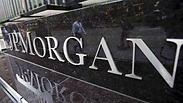 US and Israeli authorities arrested four people in Israel and Florida on Tuesday in connection with several fraud schemes tied to last summer's massive data breach at JPMorgan Chase & Co.

Gery Shalon, 31, and Ziv Orenstein, 40, are suspected of pocketing millions of dollars, with one of them being caught with two million shekels in cash. The Americans arrested are Anthony Murgio, 31, and Yuri Lebedev, 37.

Joshua Samuel Aaron, 31, is a US citizen who resides in Moscow and Tel Aviv and remains at large, as he is currently abroad - apparently in Russia, which does not have an extradition agreement with the United States.

The Jerusalem Magistrate's Court extended their remand in 20 days on Wednesday. The State Attorney's Office requested filed an extradition request on behalf of American law enforcement agencies.

All five suspects have already been indicted in a Manhattan court on Tuesday. A grand jury in New York's Southern District charged them with securities violations, fraud and impersonation, offenses which could lead to a sentence of more than 20 years in prison.

Evidence in the case includes confessions from state witnesses, e-mail correspondences and details of shares trade.

A representative from Israel's State Attorney Office said at the remand court hearing that e-mail correspondences show the defendants were actively engaged in unlawful activity, and claimed the two used fake passports and fake names for their operations.

The hacking of JPMorgan's computers compromised information in 83 million household and small business accounts, making it one of the largest such breaches in history. The attack initially prompted speculation that Russian hackers were involved, but US investigators ruled out Moscow early in the case.

The New York Times reported that federal authorities had identified some of the JPMorgan hackers because the attack was relatively unsophisticated but authorities were unable to collect enough evidence to charge anyone with the breach itself.

Investigators then turned to other activities in which the hackers were involved, leading to the charges unsealed on Tuesday, the Times reported.
Pump-and-dump scheme
According to the indictment, the Israelis worked with two unnamed stock promoters, one from New Jersey and one from Florida, to run a "pump-and-dump" scheme dating back to at least mid-2011. The defendants would acquire shares in thinly traded companies, send millions of spam emails inducing investors to buy the stocks in order to drive up the price, and then sell off their holdings.
At least five stocks were manipulated in 2011 and 2012, according to the grand jury indictment, Bloomberg said.
According to Bloomberg, two of the suspects allegedly met with their New Jersey co-conspirator in Kiev, Ukraine, at one point.
The suspects attended Florida State University together a deacde ago. US authorities said the cross-continental cooperation constituted an international cyber crime organization, operating in Moscow, Tel Aviv and Florida.
According to a statment released by the national intelligence and investigations branch of Lahav 433, Israel's cyber crimes unit arrested two suspects on Tuesday, both of whom are residents of Israel. The arrests followed a joint investigation with American law enforcement authorities, with found evidence of securities fraud scheme within the US financial system.
The mother of one of the suspects told Ynet: "I didn't know anything about this. If there is justice, they'll soon find out this is a mistake. My son doesn't deal with banks or the stock market and this sounds strange to me.... I spoke to him last week and he didn't say anything - not that he was being investigated or that they were seizing documents from him."
She went on to say that her son is "charming, he served in the army, succeeded in life. It'll all turn out to be a mistake."
Prosecutors in New York announced charges against two Florida men, Anthony Murgio, 31, and Yuri Lebedev, 37, for operating an unlicensed money exchange using the digital currency bitcoin. The two men were arrested on Tuesday in Florida.
Murgio and Lebedev were accused of operating Coin.mx, a bitcoin exchange that was used to facilitate criminal activity including cyberattacks. Between October 2013 and January 2015, the site processed at least $1.8 million for tens of thousands of customers, authorities said.
The criminal complaints against Lebedev and Murgio include a brief mention of Russia, alleging the two men sought to provide money laundering services to Russian criminals.
According to Bloomberg, the arrests follow a months-long investigation linking suspects to "one of the largest US bank hacks in history".