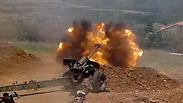 Battle for Zabadani
Photo: EPA
The United Nations envoy for Syria said government air strikes had caused widespread death and destruction in the city of Zabadani, the focus of an offensive by the army and its Hezbollah allies to retake the area from insurgents.

Staffan de Mistura, citing local sources, said the Syrian military had dropped a large number of barrel bombs on Zabadani "causing unprecedented levels of destruction and many deaths among the civilian population".


Control of the city, about 45 km (30 miles) northwest of the capital Damascus and about 10 km from the border with Lebanon, is seen as crucial to consolidating President Bashar Assad's control over the border zone between Lebanon and Syria.

Fierce clashes continued overnight in the Zabadani area, with heavy aerial bombardments in and around the city and reports of casualties on both sides, the Syrian Observatory for Human Rights monitoring group said on Wednesday. It gave no detailed figures.

Syrian state television said the army had destroyed a 70 meter-long (77 yards) tunnel used by the insurgents to transport equipment into Zabadani.

The Syrian air force has been bombarding areas in and around the city and Sunni insurgents have retaliated by firing rockets and mortar bombs on two villages near Idlib city in the north, the UN envoy de Mistura said.

An alliance of insurgents known as the "Army of Fatah" (Islamic Conquest) had targeted Al Foua and Kefraya, northern villages where a large number of civilians are trapped, he said.

"In both cases, civilians are tragically caught in the middle of the fighting," he said.

Al Foua and Kefraya are home to Shi'ite populations.

Earlier this week the Syrian army backed by the Lebanese Hezbollah advanced deeper into Zabadani, two weeks into a campaign to capture it from insurgents, rebels and the army said.

Rebels say although the army had now encircled the insurgents holed up within a five square km radius inside the city center and cut arms and food supplies from nearby towns, they had so far prevented the army and Hezbollah fighters from storming their defense lines in street fighting.

"They have advanced a bit but they have not entered inside the center of city as they had expected they would in just a few days," Abu Ado of the Islamist insurgent group Ahrar al Sham said by phone.

Taking Zabadani from the insurgents would be a strategic gain for the Syrian army which is battling on several other fronts with a range of different insurgent groups.

Hezbollah's military role inside Syria has been growing steadily since the start of the conflict in 2011. The Syrian government has described the group as its main ally in the fight against the insurgents battling to topple Assad.