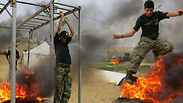 The military wing of Hamas opened its new Gaza summer camp on Saturday, building on its successful winter military camp, which aims at providing basic combat training for 25,000 Palestinians in the embattled strip.
Hamas, the de facto power in Gaza, is reportedly engaged in indirect contacts with Israel to try to reach a long-term truce, but a year after last summer's devastating 50-day war the militant movement has kept up the fighting talk.
"The goal of these military training camps is to train the vanguard for liberation: spiritually, intellectually and physically, to be ready and able to play its role in liberation," said a statement by the Izz ad-Din al-Qassam Brigades, Hamas' military wing.
The group said that participants, aged 15-60, would spend two weeks being "trained in military techniques and in firing live ammunition" as well as "first aid and rescue techniques."
As with all the brigades' activities the camps will be conducted out of public and media sight.
Hamas has long run summer camps devoted to sport and study of the Koran in Gaza, but over the winter the al-Qassam brigades launched a new kind of camp, giving military training to youth.
Under the guise of a program named "Pioneers of the Resistance," Palestinian youths – aged 15 to 21 – have undergone intensive military training, including exercises simulating operations of Hamas naval commandos.
The participants of the militant camp were also trained in firing sniper rifles, using the portraits of Israeli leaders for targets. The Palestinian youth simulated attacks on Israeli destinations through model terror tunnels, meant to recreate the experience of infiltrating Israeli territory.
Recently Hamas claimed that demand for a place in the camp had exceeded the planned quota and they were forced to make changes to accept all the applicants. The group's leader Ismail Haniyeh attended a graduation ceremony for the thousands of future Hamas militants earlier this year.
Human rights activists condemned the camps as a forced militarization of Gazan society and a violation of children's rights.
Brushing off the criticism, the brigades are repeating the exercise with the summer camp, while raising the upper age limit to 60.
AFP contributed to this article.