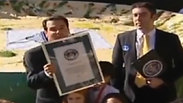 Israel will have to wait to break the Guinness record for hummus
Photo: Yaron Sharon, Avi Chai and Nitzan Dror
"It was the last thing I expected," Israeli filmmaker Oren Rosenfeld said Sunday in response to the Guinness World Records' decision not to send a judge to Israel to examine a record he wanted to break.

Rosenfeld, who is in the final stages of editing his film "Hummus," had planned to prepare the biggest bowl of hummus in history.

Video: Yaron Sharon, Avi Chai and Nitzan Dror (צילום: ירון שרון אבי חי וניצן דרור)

"As part of the film's PR, I wanted to break the Guinness record, to create a plate with 15 tons of hummus and have all the characters from the film participate in the event," Rosenfeld told Ynet. "I organized a budget, we organized a date, but when we turned to the Guinness World Records and asked them to send a judge, they claimed it was too dangerous to send a judge to Israel.

"They asked me to fill in a form with four or five questions, where would I like to hold the contest, the date. But even before I filled in the form, they told me that the chance they would send someone here was slim, but that they would anyway pass it on to their security representative."

Rosenfeld gave the British Guinness World Records people a few options of venues for the event, such as Tel Aviv's Yarkon Park and Jerusalem's Sacher Park, but he was eventually denied the opportunity to break the record.

Israelis have made repeated attempts to beat other countries – primarily Lebanon – to the prestigious title.

"The goal is to break the record held by Lebanon," Rosenfeld said. "Wasting so much money and preparing 15 tons of hummus doesn't exactly serve the purpose and sounds like a waste of time and money for all of us."