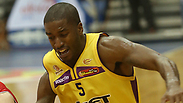 Anthony Goods. 'I didn't know what to expect before I got here, and I was pleasantly surprised'
Photo: Oren Aharoni
The dark side of Israeli basketball's foreign stars
Israel is seen as a paradise for American and European basketball players thanks to its excellent weather, the upscale lifestyle they are offered and the fact that their salaries are always paid on time. But a glimpse behind the scenes reveals a constant turnover of players, as well as discipline problems and criminal offenses.
The Israeli Basketball Premier League is a particularly good place for American basketball players: The weather, the beach, the food and the style of clothing in a country which makes an effort to imitate the United States fit them like a glove, especially as most Israelis speak English. Even the salary is paid on time.

It's no wonder, therefore, that some of the players who pass through the country return here later on in their career, after wandering through Europe.

But delving deep into the matter reveals that the issue of foreign players involves quite a few negative aspects: The teams change players at the rate people change their used socks, there is an unstoppable turnover, not to mention the different behavioral issues of the players themselves.

Game Changer

Adi Vettori, 22, aims to help integrate Ethiopian youth from the Jerusalem neighborhood of Talpiyot by way of basketball.

Since 2006 (apart for a two-year break), Israel has been applying the Russian law, which basically changed everything. Until then, a team could include two Americans and two Bosmans (European players), and there were minor changes in personnel.

At first, the law stated that there would be no limit on the number of foreign players – and the only condition was that there would be at least two Israelis among the five players in the game. The result led to an increase in the number of foreign players in the league, while the level was apparently not raised.

Israeli professional basketball player Yaniv Green saw all the changes in the foreigner laws in recent years, and is well aware of their consequences. "They mainly affect the locker room and the atmosphere in the team," he says. "In the beginning of my career, most players were Israeli and there was a local atmosphere. Today there is a majority among the Americans, and that's also the way things are conducted in the locker room.

"I am very much in favor of the Israeli player, and the Russian law we managed to instill in the league with Basketball Players Association is perhaps the only thing protecting us. without it, I don't think the fans would come to the court, because they wouldn't have anyone to identify with."
Young players, low salary
While in the early 1990s the players who landed in Israel had proven experience in the NBA, or were at their professional peak, the new reality is completely different. Because of the limited economic ability, many Israeli teams bet on young people who have just come out of college, players who don't expect an inflated salary.

Unsurprisingly, such a policy leads to many downfalls. As a result, in the past season quite a few teams chose older and more experienced players who had already proved themselves in our league or in the continent.

"I believe it comes from an understanding that it takes young people time and you have to be patient with them," says Yaniv Burger, a basketball coach at Maccabi Ashdod. "Many teams have no patience, so they prefer to bring players who have already played here and know exactly what they will get. The tough economic situation in Europe has also prompted the experienced Americans to return to Israel."

But even this change did not prevent the ongoing trend of the revolving door. That's the way it is when up to eight foreign players can be registered during the season. The figures speak for themselves. Sixty-eight foreigners played in Israel in 2012, and the number has been persistently rising, reaching 86 foreign players in the Premier League last season – a 26% growth in three years.

In fact, an average Israeli team signed 7.1 foreigners, and a total of 30 foreigners were changed throughout the season (mostly due to incompatibility). This number is enough for the personnel of a two and a half teams.

"Sometimes, the foreigner you thought would suit the team turns out to be unsuitable," says Burger. "We try to prevent it as much as possible before selecting them, but sometimes there are variables which depend more on the player than on us."

If you already find a good player, he usually doesn't stay in Israel for long. Why does that happen?

"It's very simple: Money. Look at the foreigners who succeeded in Israel and where they are today. Even Maccabi Tel Aviv failed to hold on to Tyrese Rice and Ricky Hickman after winning the Euroleague. Artsiom Parakhouski, who played in Jerusalem, moved to Nizhny Novgorod, which was in the Euroleague last season.

"The good foreigners who stay here are usually almost 30 or older. They have already made money in their career and want to end it in a comfortable place."

Anthony Goods, 28, is a classic example: In the past three years, the American guard has played in four Israeli teams – Hapoel Tel Aviv, Hapoel Holon, Hapoel Gilboa Galil and Ironi Nes Ziona (where he spent two terms). During his time in Israel, he was changed three times. The first time, Holon decided to end its contract with him. He later signed a one-month contract in Nes Ziona and then left for France. In the past season he was cut out of Gilboa Galil, and returned for another round in Nes Ziona before leaving at the end of last season.

"There's no doubt that Israel is a paradise for American players compared to other countries," he says. "The weather is excellent, the food is good and people treat you with respect. Israel reminds me of California or Florida. I didn't know what to expect before I got here, and I was pleasantly surprised."

You sound positive although your experience was quite difficult.

"Clearly, it's not easy, but that's the way it is all over Europe. Basketball is a business and you have to get used to it," Goods says openheartedly, taking responsibility too. "Every time I was cut out or left a team in Israel, there must have been a justified season. In Holon I didn't play well. In Nes Ziona I got a one-month contract and then received a high bid from Cholet in France. In Galilee they didn't want to fall down a league and tried to make changes."

You present it lightly, but we are talking about a drastic change in life. You can find yourself within 24 hours in a different country or become unemployed. It's a bit scary, isn't it?

"In the end, you have only yourself to blame if you're cut out of a team. When I was discharged from Holon, I didn't like it because I knew what I was worth, but that's what happened. Teams don't just decide to discharge players. We are part of this business and we have to know that it can all change immediately."
A sea view apartment
Financially, the Israeli league is not considered particularly rewarding. But unlike other places in Europe, in the absolute majority of Premier League teams the salaries are paid on the dot. You may be surprised, but that's a pretty rare thing in the rest of the continent.

American forward Romeo Travis, 30, who has played in Barak Netanya and Gilboa Galil, and whose career has taken him through Germany, Ukraine, Croatia and Russia, personally experienced it.

"In the past season I played in Russia (Krasny Oktyabr) and didn't receive a salary for months," he says. "I was already used to it, because it's common in Europe. In Israel it was different. I always received my salaries on time."

Aviad Gronich, an Israeli player agent, brings quite a few foreigners to the two senior leagues and is well aware of the situation in Europe.

"In many countries there are financial crises," he explains. "Even in the Spanish league, which was the considered of the highest quality for years, they suffer from a bad payments ethic. There are problems in Greece, Italy and in some of the teams in Russia as well. In Israel it simply doesn't exist, so Americans prefer to sign here for less money, but know that their payment is guaranteed."

How much is "less money"? If we take Maccabi Tel Aviv and Hapoel Jerusalem –which are a league of their own and pay an average salary of about $500,000 (a bit less in Jerusalem) – out of the equation, the average salary for a foreign player ranges from $90,000 to $110,000. Israel is far behind Europe's major leagues in this context.

The compensation for the relatively low salary comes in the form of a lifestyle which the players will likely not enjoy in other places in Europe. The foreigners receive excellent conditions in Israel, including convenient and spacious apartments and their own car.

"The teams usually put up the foreign players in sea view apartments or in a central location in the city, so that they will be able to enjoy their free time," says Burger.

Life in Israel is much more convenient in terms of the professional field as well. Goods' comment explains very well why our basketball is stuck: "The main difference between Israel and Europe is in the training. Everywhere I played, we would train twice a day almost the entire week. In Israel, most teams train once a day when the league begins."

And it's not that there are too many games. Apart from Maccabi Tel Aviv and Jerusalem, the Israeli teams have hardly played in Europe in the past few years. With one training session a day, one game a week and a relatively pampering atmosphere, it's no wonder that many foreigners are willing to compromise on the money in order to play here.
A history of problems
The good conditions, the pampering and the free time could lead to problems. Over the years, quite a few foreign players have been involved in discipline and violence offenses, and some have even been arrested.

The latest and most memorable incident took place a few months ago, when Demontez Stitt and Jeff Allen of Maccabi Haifa were arrested in possession of drugs, only several hours after a game against Bnei Herzliya.

Following the public buzz, the two were discharged from the club. As it wasn't their first term in Israel, the incident raises doubts over the attitude towards the use of drugs in Israeli basketball.

It is the most common offense among foreign players in Israel, but they are usually caught in FIBA and ULEB tests conducted after a game in Europe. Take for example Derrick Hamilton, who starred in Hapoel Jerusalem in the late 1990s, until a test revealed he had used drugs and he was discharged. Nonetheless, Jerusalem eventually decided to forgive him after he confessed to the offense, and he was returned to the team.

Two years passed, and Lamont Jones was suspended and discharged for a similar reason at the end of a Hapoel Jerusalem game against Siena. That didn't stop Galil Gilboa from sighing him in the following season, and he also played in Hapoel Afula and Ironi Ramat Gan from 2008 to 2009.

If we go even further, we'll remember Maccabi Tel Aviv's Aulcie Perry, who sat in an American prison for a long time after being caught with a large amount of heroin in Holland.

Beyond the drug affairs, there were foreigners who got into different trouble. In January 2008, Maccabi Tel Aviv point guard Will Bynum got caught in a brawl outside a club in southern Tel Aviv and was arrested on suspicion of running over a DJ and fleeing the scene. According to the police, Bynum was with another Maccabi player, Vonteego Cummings, at the time. The case against him was closed by the Tel Aviv Prosecutor's Office three months later, under the claim that he had acted in self-defense after being attacked and that he had run over the DJ when he was trying to flee the scene of the incident.

A year later, Maccabi Tel Aviv center D'or Fischer (who will play for Hapoel Jerusalem this season) was stabbed in the face at 4 am during a brawl at a club, underwent surgery and was absent from the basketball courts for nearly a month. Fischer wasn't alone at the club that night; he was accompanied by fellow team members Tre Simmons and Charles Gaines.

And there are also incidents which have never been reported, like the foreign player who used to hang out and get drunk till the small hours of the night, and his team manager was forced more than once to remove him from clubs at dawn.

"There is no doubt that the lifestyle which makes the Americans come to Israel can also hurt them sometimes, because they feel at home here, but we are talking about a number of rare incidents," says player agent Gronich. "Most foreigners who come to Israel act perfectly well."

The bottom line is that it has been proven over the years that without high-quality foreign players, it's difficult to reach achievements in the local arena, and definitely in Europe. Maccabi Tel Aviv would not have won its latest Euroleague titles if it didn't have Tyrese Rice, Nikola Vujčić, Anthony Parker and Šarūnas Jasikevičius. Hapoel Jerusalem won the championship thanks to the abilities of Donta Smith and his American friends.

But the ostentatious lifestyle of some of the foreigners, along with the repeated discipline problems (and there are many which have never been reported) lead to the a continuous tendency to carefully examine the overall issue of foreign players in Israel.