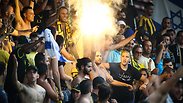 The egregious behavior of Beitar Jerusalem fans in Charleroi, Belgium two weeks ago stunned the nation, but it seems to have stunned UEFA a little bit less. The Israeli team will be fined 95,000 euros and will lose one seating sector in European games, after the Belgians were fined 28 thousand euros earlier this week for throwing objects on to the pitch and performing Nazi salutes.

Beitar was issued the punishment based on several clauses: Racist behavior, which included the waving of signs and yelling, unacceptable fan behavior (tearing down fences), behavior unbecoming of players, and throwing firecrackers onto the pitch. The team's management will have five days to appeal the decision.

The game which landed Beitar in hot water (צילום: For Beitar)

In an additional aspect of the decision, the two Beitar players who were removed from the game, Eli Dasa and Pablo De Lucas, will be suspended from the next two European league games. The heavy fine placed on the team must be paid within 90 days.

The offending behavior began with the game's opening whistle, when Beitar fans began throwing firecrackers and smoke grenades onto the pitch, and ended when Charleroi's goalie was hit in the head with an object thrown from the stands. The fan's behavior was widely condemned in Israel, and there were calls to label the teams ultra-fan association "La Famila" a terrorist group.

Additionally, the team's owner Eli Tabib announced that he would be leaving Beitar Jerusalem immediately. "I have finished my path in Israeli soccer," he said. As of now Tabib is still in the club, and the team has been running as usual, with no players having been traded or sold as of yet. A number of players are predicted to leave the team in the current trade window, after the team's budget cut.

The fines garnered by Beitar in its games against Charleroi and Kazakhstan's Ordabasy football clubs, together with the loss of revenue from low fan turnout due to the violence have left the team with a NIS two million budget deficit for the upcoming season. The current budget will force the team to sell players, the first of which will be Eli Dasa and Shlomi Azulay.