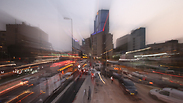 Tel Aviv
Photo: Motti Kimchi
Despite fears of traffic jams and disruptions as work began on the light rail in the Tel Aviv area on Monday, activity on the roads was fairly usual throughout the morning.

Shortly after the work began, traffic began to back up on nearby streets – but not to an unusual extent. It's believed that many people chose to avoid driving in Tel Aviv if possible, and that many others are away on vacation during the peak days of summer.


"The work started and the sky didn't fall," said Transportation Minister Yisrael Katz.

Minister Katz sought to reassure local businesses concerned that access to them would be blocked, arguing that property values would rise if the work proceeds quickly in the next two to three years, as they did in Afula and Netivot.

Tel Aviv Mayor Ron Huldai meanwhile spoke of a "historic moment."

Those most likely to be negatively affected by the work are employees in nearby areas, where private cars will encounter traffic because of closed-off lanes and prioritizing of public transportation. Four park and ride facilities have been opened by NTA Metropolitan Mass Transit System, the company overseeing the construction.

"This is a historic event," Minister Katz said on Sunday. "The project has seen ups, downs, and delays, but Gush Dan is the most populated area and it cannot exist without a real transportation system."