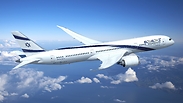 El Al Israel Airlines said on Wednesday it was opening talks with Boeing to buy and lease up to 15 new Dreamliner aircraft over the next five years in a deal that could be worth $800-$900 million, its biggest-ever plane order.

The airline said delivery of the new fuel-efficient 787-8 and 787-9 Dreamliner aircraft would begin in the first half of 2017 through 2020. The planes will replace a fleet of ageing 747-400 and 767 aircraft and will operate on medium- and long-haul routes, including lucrative North American and Asian destinations.

"I am proud to announce today the largest procurement program in El Al's history," chief executive David Maimon said in a statement. "El Al's board today authorized the company to hold talks with Boeing over the acquisition of wide-body Dreamliner aircraft for the purchase and lease of 15 planes in the next five years. This move is expected to be a significant leap forward in optimizing routes, passenger service and flight experience."

El Al said it expects the talks to be completed in the next few weeks and the final price would depend on how many planes it ends up buying.

In addition to the $800-$900 million order, El Al, which has been active in buying short-haul 737-900 aircraft, has an option to acquire 13 other aircraft from Boeing but it did not elaborate.

The Israeli flag carrier, which has an all-Boeing fleet, said in May that its net loss narrowed in the first quarter as it increased its market share, flew more passengers and benefited from a stronger dollar and lower fuel prices.

Its market share at its Ben-Gurion International Airport base rose to 35.4 percent from 33.3 percent in 2014 but in recent years El Al has been losing share to foreign airlines in a highly competitive market.