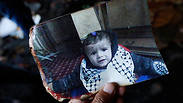 A photo of murdered Palestinian baby Ali Dawabsheh
Photo: EPA
We have incurred guilt, we have betrayed, we have sinned. Not all of us. Few among us. We didn't set up a mourners' tent where candy was handed out; we didn't cry out with joy. We didn't turn murderers into heroes. A great sadness befell the absolute majority of the citizens of Israel. No ululations nor dancing and no glee over the murder of children. So tell it not in Gath that we were like them, publish it not in the streets of Ashkelon that we are all monsters. There is more than enough libel against Jews and Israelis. There is no need to add fuel to the fire.

Zionism bred not just a Jewish thief, as Herzl predicted, but also a Jewish Nazi. We wanted normalcy, and we got a little too much. There are Nazis and Neo-Nazis in Sweden, Norway and the United States. Now, we have some too. Few in number. So few a kid can count them. But they exist. They are not part of the political debate. Even those who oppose the settlement enterprise, and there are many of them among us, need to watch their tongues. Abraham asked for only ten righteous men to save Soddom, even though he had no love for its people. For us, it's the other way around. Because of fractions of evil, we are all made evil.

Jewish Terror

Op-ed: Freedom of expression is a noble value, the air democracy breathes; but the court has failed to equip democracy with tools to defend itself against those who are using freedom of expression to recruit hate criminals.

Each nation has its bad weeds and low points. The American nation served as a breeding ground for the Ku Klux Klan. The French committed the Sétif and Guelma massacre in Algeria, while in Paris police massacred hundreds of Algerians in 1961. Belgium committed the biggest massacre in colonial history, and there are numerous other examples. Israel has not reached this low point, but it is not free of the insanity virus. So yes, we need to be remorseful. We need to eradicate the evil from among us. We need to internalize the fact there is a connection between words and actions, and we need to be reminded of what was supposed to be obvious: An entire nation grieved the murder this week, rather than celebrate it.


Following the two murders, settler leaders, religious-Zionist rabbis and academics associated with them convened in Jerusalem this week. They held a painful discussion about the state, Halacha laws and modernism, the place of universal values, and how to fight the bad weeds that grew in their own back yards.

They didn't agree about everything, but the participants released a joint statement. "We who love the land and the people... there is room for all of the children of Abraham, Isaac and the sons of Ishmael in our land, regardless of religion, race, gender or orientation. Beloved is man who was created in the image of God." I have serious political disagreements with the majority of participants, but as those who represent the majority of the national-religious camp, they deserve to be commended for making a clear statement in favor of the sons of Ishmael, as well as those with a different sexual orientation.

Yuval Diskin, the former head of the Shin Bet, doesn't care about this majority. In April 2014, he wrote of the religious-Zionist rabbis that "some support, some refuse to condemn (price tag attacks - BY), some roll their eyes, few half-heartedly condemn and fewer are those who wholeheartedly condemn." This week, he republished these comments, as a way of saying "I told you so." This text reminded me of an academic, a former Israeli, Ilan Pappé, who once wrote an article about how "most journalists and academics in Israel support transfer, few wholeheartedly condemn it." It turns out lies need similar wording.

Diskin's name is mentioned here as the great white hope of the Zionist left. Every now and again he says something sensible. But first, Diskin needs to come down to the ground, where facts and reality reside. Unless he is on his way to lead "Breaking the Silence."

Making generalizations is a risky business. Despite the mass killing branches of jihad commit every day, it would be foolish and even racist to say that the Muslim people chose terrorism. Despite the fact some on the left explain away and even justify terrorism, it would be foolish, dangerous and demagogic to say leftists chose terrorism. The great majority of them are patriots, even if their opinions anger someone.

And that is why it is a bit difficult to remain indifferent to comments made by President Reuven Rivlin, who said that "my people chose terrorism." Many came to his defense. "He's brave," they said. Beyond bravery – he made a dangerous generalization. Others claimed the president meant only those among his people who chose terrorism. That might be. Except it's not the first time Rivlin is not careful with his words. He made similar generalizations in the past.

So you have to appreciate and respect Rivlin's willingness to hand out sharp criticism, and there is nothing like self-criticism. But generalizations are a risky business. Sometimes even a racist business. Not just when they are made about Muslims, but also when they are made about Jews. Be that as it may, it should be clear that valid criticism of the president does not justify the shameful statements made against him this week.

The extremists, both on the left and on the right, have something in common. They define themselves as anti-Zionist. We already know this about the extreme left. They declare this publicly, and they have a lot of public stages to do it from. The spiritual leader of the extreme right is Rabbi Yitzchak Ginsburgh from Yitzhar, who is affiliated with Chabad's messianic sect. And he, like his twins on the left, also declares himself to be anti-Zionist. "We must uproot the Zionist spirit... eradicate the government, on the left or right. And when a new one is formed, overthrow that government as well. And so on - until the establishment of a religious regime in Israel." It's not ISIS, but it sounds similar. Ginsburgh is not alone. There are more rabbis that belong to this sect. And these rabbis and their supporters, along with phenomena like La Familia and others who spread racist poison on social media, number in the thousands. They are able to create a lot of noise. But they wouldn't have passed the threshold into the Knesset.

When it became apparent the Od Yosef Chai Yeshiva in Yitzhar, headed by Ginsburgh, was a breeding ground for radicalization, the state stopped funding it. Now, it turns out, the organization Honenu is transferring financial aid to those convicted of terrorism, or their family members. The organization is not funded by the state but donations to this organization, as Channel 10's Matan Hodorov revealed this week, are exempted of taxes. The Palestinian Authority gives a monthly stipend to murderers of Jews sitting in Israeli prisons. While the lips condemn, the hand funds. We must put an end to this disgrace. Not just there. Here as well.

One day, the murderer of baby Ali Dawabsheh will be caught. After a few years in prison he will write a book about his life. A Jewish theater will stage a play based on this book. The "Coalition of Women for Eretz Israel" will attend the premiere, as part of their struggle against administrative detention for "political prisoners." The ministers of education or culture will decide they don't want this play as part of the culture basket. Intellectuals and artists will organize conferences and sign petitions against "the destruction of democracy and the threat to the freedom of speech." It will happen. Oded Kotler and Gila Almagor already paved the way.