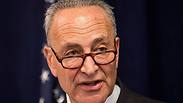 Democratic Senator Chuck Schumer (Photo: AFP)
Photo: AFP
President Barack Obama suffered a notable setback in his all-out campaign to secure Democratic support for the Iran nuclear deal when the leading Jewish Democrat in the Senate announced his opposition. The question is how significant the blow will turn out to be.

Republicans, infuriated by Obama's recent comparison of GOP foes of the pact to "Death to America" Iranian hardliners, immediately focused on the stunning break with the president by Chuck Schumer of New York, and they're urging other Democrats to buck the administration.

But there was no quick indication that the announcement by Schumer, the No. 3 Senate Democrat and party leader-in-waiting, would trigger a rush of Democratic opposition to the international accord, which aims to curb Iran's nuclear program in exchange for billions of dollars in relief from crippling economic sanctions.

In fact, just hours after Schumer's late Thursday statement, Wisconsin Sen. Tammy Baldwin and Vermont Independent Bernie Sanders endorsed the deal, bringing the number of Senate backers to 15.

"The test of a great nation is not how many wars it can engage in, but how it can resolve international conflicts in a peaceful manner," said Sanders, a Democratic presidential candidate who said he spoke to Obama on Friday.

Still, a second New Yorker, Rep. Eliot Engel, the top Democrat on the House Foreign Affairs Committee, and an additional Democratic member of the panel, Brad Sherman of California, joined Schumer Friday in opposing the deal.

Five weeks before crucial votes in Congress, Schumer's decision was seen as a blow to the administration, whose intense lobbying on Capitol Hill since last month's deal had produced a steady stream of support from Democrats who had been the most vocal in demanding congressional oversight, including Virginia's Tim Kaine and Florida's Bill Nelson.

But Democrats in the House and Senate said they remained confident that a sufficient number would ensure Obama's deal survives.

"I think there is every reason to be optimistic that we will be able to sustain a veto in the House," said Rep. Jan Schakowsky, D-Ill., one of the party's vote counters

House and Senate Republicans have enough votes to pass a resolution of disapproval next month, but Obama is widely expected to veto that resolution and Republicans will then try to overturn the veto.

Faced with uniform GOP opposition, the administration has targeted Democrats, and 21 of the 188 House Democrats have announced their support while nine oppose the deal.

Coupled with the courting of Democrats, Obama has lashed out at Republican critics of the pact, saying hardliners chanting "Death to America" in Tehran are "making common cause with the Republican caucus."

Senate Majority Leader Mitch McConnell, R-Ky., called on Obama to stop demonizing foes of the deal, but the president doubled down on his assessment.

"The reason that Mitch McConnell, and the rest of the folks in his caucus who opposed this jumped out and opposed this before they even read it, before it was even posted, is reflective of an ideological commitment not to get a deal done," Obama said in a CNN interview that aired Friday. "In that sense they do have much more in common with the hardliners who are much more satisfied with the status quo."

Republicans gleefully pointed to Schumer's opposition and questioned whether the White House would take back its criticism. Other Republicans, like Pennsylvania Sen. Pat Toomey, called on Democrats to follow Schumer's "independent path."

Schumer — a congressional ally of Israel, a leading fundraiser and strategist for his party and a lawmaker from a state that is home to more than a million-and-a-half Jews — had been under intense pressure. The pro-Israel lobby American Israel Public Affairs Committee is vehemently opposed to the deal, which Israeli Prime Minister Benjamin Netanyahu has denounced as undermining the security of Israel and the region.

After days of review and soul-searching, Schumer said, he informed the White House of his decision Thursday afternoon.

"The very real risk that Iran will not moderate and will, instead, use the agreement to pursue its nefarious goals is too great," he said in opposing the pact.

Schumer's split with Obama is remarkable for a senior leader in line to replace Senate Minority Leader Harry Reid of Nevada after Reid retires at the end of next year. The New Yorker's decision also puts him at odds with the Democrats' likely presidential nominee and former New York senator, Hillary Rodham Clinton, who has cautiously embraced the deal.

Schumer signaled that he wouldn't lobby hard against the accord, saying that "in my experience with matters of conscience and great consequence like this, each member ultimately comes to their own conclusion."

House Minority Leader Nancy Pelosi, D-Calif., has said she expects that chamber to back Obama in sustaining his veto, which would require one-third plus one of those voting in the 434-member House.

In the Senate, 34 Democrats would be needed to sustain a veto.

A subtext of the Iran issue is the tension between Schumer and the No. 2 Democrat in the Senate, Dick Durbin of Illinois, and the implications for next year's choice of a successor to Reid.

Reid and Durbin have backed Schumer's elevation, but the question of whether Schumer stands behind Durbin for the whip post led to a messy, public spat this past spring.

Durbin supports the Iran deal and has been working hard to round up support for Obama. Schumer's decision outraged some liberal groups, who called him a "warmonger," dismissed the notion of Schumer as the next Senate Democratic leader and vowed to withhold contributions from Democrats opposed to the deal.