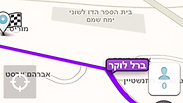 The offensive listing
Photo: Moshe Ben David
A mixed Jewish-Arab school in Jerusalem filed a complaint with police on Sunday about a threatening comment posted on a Google-owned navigation app, as Israel experiences a rise in hate crimes by far-right Israelis.

"The Bilingual School - May Their Names be Erased," was added, in Hebrew, to the school's location on the map on Waze, a mobile app, widely used in Israel, which uses driver data to help people avoid traffic jams.

Waze deleted the words after they were brought to its attention on Sunday. A source at the company said the entry had been made by a user who had had permission to list destinations on the map but had now been banned.

"I have been in touch with the police and I will file a complaint," said Nadia Kinani, principal of the Hand in Hand school, a rare example of co-existence in Jerusalem which was damaged in an arson attack in November.

An Israeli court last month jailed two brothers from a far-right Jewish group for two years for that attack, in which a classroom was torched and "Death to Arabs" daubed on a wall in the yard.

With peace talks with the Palestinians stalled since April 2014, Israel is struggling to contain hate crimes that it fears could spark renewed fighting.

In an attack on July 31, suspected Jewish extremists torched a Palestinian home in Duma, a village in the West Bank, killing an 18-month-old child and his father, who died of his injuries on Saturday.