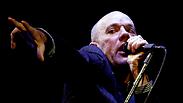 Michael Stipe
Photo: Getty Images
It's been two decades since American rock band R.E.M. performed in Israel, but lead singer Michael Stipe still has fond memories of the Holy Land.

A post published Sunday on the band's Facebook page features an old picture of Stipe alongside a young Thome Yorke, the singer and songwriter of alternative rock band Radiohead, R.E.M.'s opening act in the Ramat Gan concert, and a caption which will undoubtedly please many of the former band's Israeli fans.

"It was 20 years ago today: R.E.M.'s only show ever in Israel," the post read. "Security was tight. First time for that kind of stuff for us. Mike and Peter (R.E.M. members Mike Mills and Peter Buck) had been to Israel three years earlier for promo for Automatic (the band's 1992 album 'Automatic for the People'). They'd visited the Dead Sea.

R.E.M. in concert

"We saw a Ben and Jerry's on the beach and thought that was funny. Radiohead supported. It was quite a night and truly unforgettable.

Places like Catania and Tel Aviv were the first time we had done a 'bonus week' at the end of a normal tour in Europe – a way to get to places not really routable into a normal run of dates for reasons of logistics and geography."

The post concludes with the list of songs the band performed at the Ramat Gan Stadium on August 9, 2005.