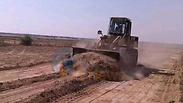 Israel police and Shin Bet operatives arrested early in July Ibrahim Adel Shehadeh Shaer, a 21-year-old resident of Rafah and Hamas fighter with significant knowledge of Hamas' actions in Rafah and tunnel digging that was revealed during his questioning.

Among the intelligence gained from Shaer during his questioning, the Shin Bet was able to confirm that a road recently built by Hamas along the border fence was intended for a surprise attack on Israel involving vehicles that would even cross the border.

Shaer's arrest was cleared for publication early Tuesday afternoon.

Shaer also disclosed specific emergency procedures followed by Hamas and the organization's intention of using tunnels rebuilt since last year's Operation Protective Edge to launch attacks in Israel.

In particular, Shaer was able to supply the specific locations, paths, and digging sites of tunnels in the Rafah area leading in the direction of the Kerem Shalom border crossing.

As a Hamas operative, Shaer was personally involved in a wide variety of training including combat, command, use of advanced weapons and explosives.

During Operation Protective Edge, Shaer was active in a logistics and support company that helped transport military equipment and explosives to fighters in the field. Shaer was also directly involved in combat zones including planting anti-tank mines and observation duties.

The Shin Bet said that Shaer had been privy to the details of many of Hamas' senior officials. During his investigation, he talked about Hamas' relationship with Iran which he said was shipping military aid to the Gaza Strip to strengthen the organization.

Shaer said that Iran was sending money, advanced weapons and electronic equipment to the Gaza Strip including devices to disrupt radio frequencies meant to help down Israeli UAVs above the Gaza Strip. He also claimed that Iran had trained Hamas operatives in paragliding with the goal of infiltrating Israel.

The Shin Bet also said that Shaer provided information regarding the formation of Hamas' elite units, their anti-tank abilities, anti-air abilities and observation abilities. Shaer explained that Hamas has the ability to film at a distance of approximately three kilometers into Israeli territory.

He also detailed changes in strategy and unit formations since Operation Protective Edge.

Shaer told interrogators that Hamas used materials allowed into the strip for reconstruction to make weapons. In addition, he said that civilians were being put in danger as the organization regularly stores explosives in residential structures due to the fear that Israel would attack separate storage facilities for weapons.

An indictment against Shaer was submitted to Be'er Sheva's District Court on July 31st. He was accused of membership and activity in an unlawful association, attempted murder, contact with a foreign agent, forbidden military training and various weapons offenses.