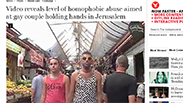 The recently published Ynet video clip, showing two gay men walking hand-in-hand in the streets of Jerusalem and being stared at and showered with curses and obscenities, has been generating interest around the world.

Even inside Israel, widely considered to be the most tolerant Middle East nation on LGBT (lesbian, gay, bisexual, and transgender) matters, many expressed shock.

Gay couple walks Jerusalem streets (צילום: ניר כהן ואלי סגל, עריכה: מור אסבן)

The video, filmed by a concealed camera, shows two men, Shay and Ofir, walking in the heart of Jerusalem – Jaffa Street, the Mahne Yehuda Market, and The Midrahov – just days after the murder of Shira Banki at the city's gay pride parade. The two men were cursed, and even death was wished upon them by Israelis from various sectors of society.

The video was published on The Huffington Post, one of the most popular news sites in the United States and the world. The article's headline read, "This Is What It's Like For Gay Men To Hold Hands In Jerusalem", with editors mentioning that the clip is reminiscent of the video shot a few months ago in Russia, which documented two Russian men being shoved and berated by people as the walked the streets of Moscow.

The Independent mentioned that the Video looks similar to violent videos in Russia and Ukraine, two countries associated with intolerance toward sexual minorities. "One of the pair has a pony tail and both are wearing vests, but they only give a mild display of affection," the report emphasized.

The British newspaper cast doubt on Israel's image as an Island of tolerance in the region, writing, "Israel is widely perceived to be one of the most tolerant countries in the Middle East. However a survey in 2013 suggested that only 40 per cent of Israelis think LGBT people should be accepted."

The British tabloid Mirror titled their story on the subject, "Footage displaying the shocking level of homophobia in Jerusalem." Like others, Mirror tried to analyze the obscenities that were hurled at the couple on Jerusalem's streets. "Israel is one of the only countries in the Middle East to have openly gay communities and the gay pride event in relatively secular Tel Aviv usually passes without incident," they wrote. "But in conservative Jerusalem, attitudes are not as liberal."

The Video was also published on Jewish news sites and LGBT-related news sites around the world.