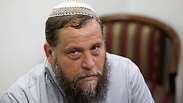 Bentzi Gopstein. As far as he is concerned, burning churches is a mitzvah
Photo: EPA
Bentzi Gopstein, the chairman of anti-assimilation fringe group Lehava, believes churches in the Land of Israel should be torched. He made the comment during a symposium at the Wolfson Yeshiva.

In his pyromania, Gopstein isn't expressing a personal perversion. As far as he is concerned, burning churches is a mitzvah. At the moment, not all observant Jews, perhaps not even most of them, share his opinion. In the discussion, the Lehava chairman was the only one to sanctify pyromania. The other participants were skeptical.

Incitement to Racism?

The Custody of the Holy Land asks AG to indict radical right-winger for saying church burning complies with Jewish Law.

In response to Gopstein's argument that, according to Maimonides, there is a duty to exterminate idolatry in the Holy Land, one of the participants stated that there is no such duty these days and that the Halacha (including the interpretation of previous halachic rulings) is determined by halachic adjudicators, not by "young uneducated people" (like Gopstein).

It's easy, therefore, to reject these comments as unusual and see the ongoing harassment of clergymen and churches in Israel as an expression of the world-view of "errant weeds." Unfortunately, these weeds may be errant, but they are fed by fertile ground. If there will be no change in the attitude of halachic adjudicators, the views of Gopstein and his friends will become more and more mainstream.

This issue is raised in the research work of Karma Ben Yohanan, who is completing her PhD these days under my guidance. Ben Yohanan, who has been dealing with the relations between Jews and Christians in Israel in the past 50 years, points to a dangerous change in the attitude towards gentiles in general and Christians in particular.

It's important to note that almost all prominent halachic adjudicators defined and still define Christianity as "idolatry." From this perspective, Christianity's halachic position is worse than the position of Islam. While the Muslims are the Jewish people's most dangerous enemy today, the Halacha accepts the fact that they worship one god, and are not idolaters like the Christians.

In the past, especially in communities living among Christians, halachic ways were found to exempt the latter of the laws demanding a completely disconnection from idolaters and the "eradication" of idolatry as much as possible. This was usually explained through pragmatic reasons: Because the Jews are weak, they must to treat the Christians with respect and open-mindedness, not because their religion deserves respect, but "in the interests of peace."

In the past few decades, however, the perception that the Jewish people no longer have to be afraid of what the gentiles will say has been reinforced in many circles. The "real" Judaism, in their eyes, does not compromise and does not apologize. When Israel's hand is firm, there is no longer a need for political calculations and "we must let an idolater gentile among us be."

"The tolerance in the rabbinical Jewish consciousness," Ben Yohanan writes, "is tightly connected to the Diaspora, and to the Jews being a minority subject to the Christians' mercy. In halachic Judaism there is no tolerance originating in the fundamental acceptance of the other. On the contrary, Jewish sovereignty is reflected in a firm hand against religious minorities, not in caring for them."

Even rabbis who try to advance tolerant views usually do it based on old political reasons: Israel's hand is not firm enough yet. It is our duty to treat the gentiles with respect for fear of a harsh response on their part. For now, we may rob the Muslims' lands. When Israel's hand will be firm, it will be possible – and appropriate – to eradicate Christian idolatry from this land as well.

The Land of Israel Judaism is a religious system which sees halachic and ideological strictness as a sacred value. It sees "being strict about both easy and difficult mitzvot" as an expression of real devotion, while "alleviation" is seen as weakness. This approach is reflected in all areas of life, and makes the lives of those who don't have halachic power miserable. It is particularly dangerous in the relations between Jews and gentiles.

As long as those with halachic power refuse to see the acceptance of the other as a halachic and moral duty, as long as they are part of a degrading and discounting approach towards anyone who isn't Jewish, and as long as they show explicit or silent forgiveness towards violence against gentiles, there will be many who won't wait for an explicit halachic ruling but will take action as Phinehas did.