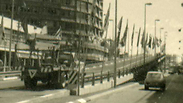 Bridge in 1976
Photo courtesy of Tel Aviv municipality
Tel Aviv's Maariv Bridge will no longer exist after next week, following nearly four decades of acting as a major city landmark. In honor of the occasion – seen by some as the end of an era – Ynetnews looks back at the history of a structure that was only meant to last for three months but proved to be indispensible.
Maariv Bridge will be closed to traffic starting Thursday evening until its destruction next week, in preparation for work on the city's light rail. The bridge, officially known as Nesharim Bridge, was a historic milestone in Tel Aviv.
Aerial view of Maariv Bridgea ahead of demolition (צילום: תומריקו)


Ilan Schuri, a tour guide, is well-versed in the bridge's history. "The bridge was built for drivers to use for only three months, until completion of work paving an underground path in the area," he said. "It was called 'Gesher Nesharim' ('Bridge of Eagles') because it was dedicated around the time of Operation Entebbe."
Schuri recalled that in his childhood, "you could see what was happening inside the offices from inside the cars on the bridge – nothing like that existed in the city." He added that because the bridge was only meant to be used for a very short time, the fact that it was used for decades posed a risk, with pieces of concrete frequently falling off.
Schuri also called the bridge an inseparable part of Tel Aviv's history. "First of all, Maariv Bridge is a phrase," he said. "When you would go to eat at a famous steakhouse, you would stand by Maariv Bridge. When you went out to have fun around Rothschild Boulevard, you would pass through the bridge.
"It was a city landmark," said Schuri. When there were celebrations in Tel Aviv, there were posters on the bridge and flags. Every driver enjoyed suddenly rising above the road and climbing up, high, to see the city from above and then come down. It was a first, an innovation, at least in the 80s and 90s."
Numerous groups have popped up online created by residents preparing for the historic event – but police, fearing too large a crowd at the demolition, said that the date of the demolition has not been set, and it is not even clear whether it can be destroyed with explosives.
NTA, the company overseeing the light rail project, added that given the intense interest, changing the deadline for destroying the bridge was under consideration.