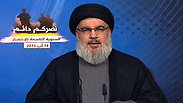 Hassan Nasrallah
Photo: AFP/ Al Manar
Hezbollah Secretary General Hassan Nasrallah said on Friday that Israel has no military strategy that will allow victory in Lebanon.

Delivering his annual speech marking the end of the Second Lebanon War in 2006 – known by the organization as "the anniversary of the divine victory" – Nasrallah claimed that the lack of strategy was shown in the document outlining Israel's national security strategy, which was released publicly by IDF Chief of Staff Gadi Eisenkot a day earlier.

According to Nasrallah, while Eisenkot discussed depending on ground troops as part of the new strategy, the IDF did the same during the Second Lebanon War and failed. "The IDF is not bringing anything new," he said.

"Every piece of Lebanese land will be a fortified trench that will destroy your ranks and kill your soldiers and their officers and your army will be defeated," Nasrallah vowed. He added that the IDF admitted in the document that its air force could not decide a campaign on its own.

Besides Nasrallah's speech, Hezbollah also displayed prop versions of blackened Merkava tanks to represent "Israel's defeat".

Nasrallah said the end of the war was "a victory by the grace of God… Dozens of armored tanks were destroyed and dozens of soldiers were killed. They felt hell below their feet and over their heads here. Here the legend of the Merkava tank was shattered."

The Hezbollah chief claimed that the strength of the Lebanese people can stand firm before even the strongest armies. "We managed to be victorious in 2006 despite the split in the country," he said. "If we were divided and won, then what will happen when we are united?"

Nasrallah was backed up by Ibrahim al-Amin, editor of the Hezbollah-affiliated Al-Akhbar newspaper. Al-Amin claimed that anyone who thinks that Iran would stop funding "the resistance movements" after the nuclear deal was mistaken, and that it would increase its support.

Underneath the ominous headline "Towards the third war (with Israel)", al-Amin noted it was interesting that the IDF revealed its strategy for the first time only a day before Nasrallah's speech.