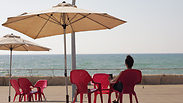 Catching shade at the beach in Tel Aviv
Photo: Yaron Brener
The intense heat wave that has engulfed Israel over the past few weeks refused to relent on Sunday, as 44 degrees Celsius were noted in Sde Eliyahu, a religious kibbutz in northern Israel, while in Kibbutz Gilgal in the Jordan Valley, meteorologist measured 43 degrees Celsius in the shade.
Be'er Sheva in the south reached 42 degrees, while temperatures reached 40 degrees in Sha'ar HaGolan near Tiberias and in Hula Valley, and 36 degrees in the mountainous Safed and Jerusalem.
Temperatures in the coast area were not as high, but humidity was between 70-75 percent, making it feel like over 40 degrees.
The heat is expected to increase in the late afternoon hours.
The beach at Achziv on Saturday (צילום: עידו בקר)
According to Shlomo Oberman, a forecaster for the Meteo-Tech meteorological service, this is the third heat wave to hit the area this summer.
While Monday's forecast showed some cooling, the humidity was predicted to rise, meaning it would still be very hot, but also humid.
The forecaster said that even the sea temperature would set a seasonal record at 30-31 degrees Celsius (about 86-88 degrees Fahrenheit).
The Health Ministry on Thursday released a warning about the heat wave and called on the elderly and those suffering from chronic diseases to avoid exposure to heat and sun as much as possible, to avoid unnecessary physical exertion, to be careful to stay hydrated, and to be in air-conditioned spaces as much as possible.
An intense heat wave caused 93 deaths in Egypt over the past week, mostly elderly people, according to Egyptian news agency MENA.