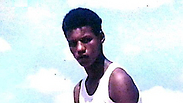 After maintaining a low profile for almost a year to allow secret negotiations with Hamas for their son to continue, Abera Mengistu's family decided to stage their first public protest on Monday.

The family will hold a demonstration outside the Hadarim Detention Center during visitations hours, when families of Palestinian security prisoners arrive to visit them.

The Mengistu family is being accompanied by Kibbutz Movement official Yoel Marshak, who led the campaign for the release of IDF soldier Gilad Shalit from Hamas captivity in Gaza.

Until now, the Mengistu family respected the government's request that they stay quiet, and even asked social activists from the Ethiopian community, who were determined to launched a campaign for Mengistu's release, to hold off on such efforts.

Now, however, they are breaking their silence and calling on Israelis to join their protest.

Sources in contact with the family said that "this is a different protest than the Gilad Shalit case, because this is a humanitarian case rather than a military one. The family is aware of the difference, and aware of the existing difficulties. On the other hand, they want to see their son return home. We want to put pressure on Hamas using the families of the prisoners."

After ten months, it was cleared for publication last month that the 29-year-old Mengistu from Ashkelon was being held in the Gaza Strip since September 8, 2014, after crossing the border fence from Israel into Gaza.

After the story broke out, Channel 10 aired audio of conversations the family had with Lior Lotan, Prime Minister Benjamin Netanyahu's representative, in which he warns them: "Whoever connects Abera with the story between the Ethiopian community and the State of Israel will leave him in Gaza for another year," said Lotan referencing recent protests led by Ethiopian-Israelis against racism.

Lotan also warned the family against documenting the meeting saying, "This is unacceptable. Meetings with me don't get documented." Mengistu's brother can be heard in the recording trying to interject, but Lotan stopped him, saying, "Don't get into these things with me please, I'm an older man than you. Decide what you want - to work together or make a scene and manipulate us."

After the recordings were released, both Lotan and Netanyahu arrived at the family home in Ashkelon to apologize.

A security official said last month that Hamas would want something in return even for information on Mengistu, as well as another Israeli held in Gaza whose name is under gag order.