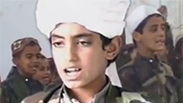 Hamza bin Laden, the son of al-Qaeda's founder Osama bin Laden, has issued a call to Muslims all over the world to attack the US and its allies, including Israel, on their home turf.

In a new audio recording, the 24-year-old says it is time to move the war in the Middle East across the ocean and instead of fighting in Gaza, Baghdad and Kabul - fight in London, Washington, Paris and even Tel Aviv. "This is your duty," he says.

He urges lone wolf attacks in the US and the West, and calls to target Jewish and American interests globally.

Hamza bin Laden has been dubbed the "Crown Prince of Terror." He was very close to his father until the al-Qaeda leader was killed in May 2011 in a US Navy SEAL Team Six raid on a compound in Abbottabad, Pakistan, where he was hiding. According to reports, Hamza was with his father at the time of the raid, but managed to escape.

The release of the recording is likely an attempt by al-Qaeda to renew its popularity that decreased with the rise of the Islamic State.

ISIS is making headlines all over the world, drawing thousands of jihadists to its ranks, and it is believed the al-Qaeda leadership thinks that using one of the people closest to Osama bin Laden could help restore the organization's former glory.

Hamza bin Laden appeared in al-Qaeda videos when he was younger, after the September 11 attack on the World Trade Center.