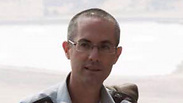 Defense Minister Moshe Ya'alon has selected Colonel Sharon Afek as the IDF's new Military Advocate General, replacing Maj.-Gen. Danny Efroni, who is finished his four-year term.
Defense Minister Ya'alon held several consultations as part of the selection process, including meeting with the Attorney General, past and present MAG's and relevant authorities who knew the candidates on a personal level.
"Col. Afek has a rich and diverse legal experience and background, which will help him command the MAG corps," Ya'alon said.
Afek is currently serving as the commander of IDF's "Afek" Staff and Command College. He has also served as the deputy Military Advocate General, the legal advisor to the Judea and Samaria command, the air force judge advocate, and the deputy head of the IDF's international law division.
He holds an LLB degree with honors and graduated summa cum laude with a master's degree in law from Tel Aviv University, as well as a master's degree in national security studies from Haifa University with honors. Afek also attended the Senior Executives in State and Local Government program at Harvard University.
Afek's background in international law is extremely relevant at present due to the growing legal threat posed by pro-Palestinian groups in their attempts to de-legitimize Israel.
The outgoing MAG Efroni is set to leave his post in October, and is currently attempting to see to as many Protective Edge cases as possible, however it is highly likely that Afek will have rule on the remaining cases.
A major case which has yet to be ruled on is the investigation into the events of "Black Friday" in Rafah during Operation Protective Edge, which saw the death of 40 Palestinians, some of whom were civilians, as a result of heavy IDF fire during the attempt to rescue Sec-Lt. Hadar Goldin, whose body was snatched by Hamas.
The question still remains whether or not a criminal investigation will be opened into the matter, and if so what indictments will be handed down.
The current MAG has also yet to decide whether to draft an indictment for an armored battalion commander Lt.-Col Neria Yeshurun, who is currently under criminal investigation for ordering his unit to fire on Palestinian medical clinic after one of his officers, Major Dima Levitas, was killed by a sniper firing from the clinic on the previous day.
According to Ya'alon, "The international legal-military arena has become hugely important in recent years, it is a complicated arena, full of challenges, and requiring a deep and thorough understanding of international law. The importance of the arena becomes central due to the need for legal justification for IDF actions against terrorist organizations – and the need to provide legal protection for IDF commanders and troops from prosecution abroad."
This sentiment was echoed by former justice minister Tzipi Livni, who has led the establishment of a Knesset sub-committee within the Foreign affairs Defense