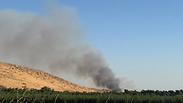 The Israel Air Force launched an additional air strike in Syria Friday morning, targeting a vehicle in which 4-5 men were killed who were responsible for Thursday's rocket fire on the Golan Heights, Defense Minister Moshe Ya'alon confirmed Friday morning.
The Lebanese Al Mayadeen network said three of the dead were Palestinians and one was a Syrian.
According to a senior IDF officer, the attack was conducted with the use of aircraft. "We attacked a vehicle containing four people in Syria this morning," he said. "This was the cell that fired yesterday. We followed it and it was attacked about 10 or 15 kilometers away from the border with territory completely controlled by the Syrian army. It is an Islamic Jihad cell directed by Iran."
Arab-language media outlets aired footage they claimed showed the aftermath of the strike on the vehicle.
Footage allegedly showing aftermath of strike
Ya'alon and Prime Minister Benjamin Netanyahu confirmed the officer's statements, saying that the squad had been eliminated and that that IDF would identify and chase down anyone threatening the safety of Israeli civilians.
Ya'alon said the attack on the vehicle was "additional proof that we will not tolerate any attempt to disrupt our lives and harm Israeli citizens' security."
"I said this week that whoever attempts to harm us, we will harm - and that's exactly what we did," said the prime minister.
The prime minister said those who fired the rockets had been killed that that Israel had also struck at Syrian forces who "allowed" for the rocket attack.
Syrian media reported a slightly different version of events, claiming that five civilians had been killed in the Israeli air strike.
Reports also said that others in the vicinity suffered minor injuries and that the strike had been carried out by an Israeli drone.
Itamar Eichner contributed to this report.