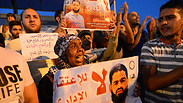 Allaan's death could've led to rioting
Photo: Avi Rokach
Israel doesn't know how to deal with passive resistance
Op-ed: Israel knows how to handle terrorist attacks, but when it comes to hunger strikes, the state capitulated and released Mohammed Allaan. This is not the same Israel that launched the Entebbe Operation. Now, we make decisions only when there is no other choice.
The Israeli summer is hot as hell, and we were gathered at the Nitzan cemetery. Eighteen years have passed since Shayetet 13's disaster in Lebanon – an operation with a name generated by a computer and the title of "disaster" given by its fallen.
Yohanan Hilberg is buried there. A decade ago, when Gush Katif was evacuated, he moved homes. This is his second burial. We were on the same fire team. We've stayed that way for more than two decades.
At the edge of the cemetery, next to the sand dunes, there's a high pole with a flag on top that waves even when the wind isn't blowing, perhaps powered by respect.
I once thought about writing about that operation, which started and ended on that night 18 years ago. For history's sake. For my own sake. I wrote one line and regretted it. Too soon. Personal history is written slowly.
The Shayetet disaster was the essence of the Israeli story. Contrary to common belief, the disasters were what got Israel
to withdraw from southern Lebanon – not anyone's strategic decision. The 73 dead soldiers from the helicopter disaster, the five dead soldiers from the Wadi Saluki disaster, and then the12 Shayetet fighters who fell in one night, were all the straw that broke the camel's back.
The disasters occurred during Netanyahu's first term as prime minister. He was hit with the blame from the public. When Ehud Barak replaced him, he was left to navigate by public sentiment. Both of them were interviewed recently for a new film about the rescue of Sabena flight 571, a rare media event. Both also recently visited the Rabin Center's exhibit dedicated to the Entebbe rescue operation. It seems that despite the differences, nostalgia is easier for them to deal with than the present.
I often wonder if our story has stayed the same. Are we still brave and bold, do we still take risks even if they hold political risks to decision makers? Would the Israeli government of today be able to approve a military operation to rescue the Entebbe hostages?
In Operation Protective Edge, we were dragged into destroying Hamas' attack tunnels. We were dragged into the ground operation. Circumstances are what led to casualties, not a strategic decision to stop Hamas' accumulation of power. A ground operation was feared because of the danger of casualties. In the end we went in, and we suffered casualties.
If Israel capitulates
When the memorial ended, I started driving towards the Ashkelon Junction. I wanted to see the protesting for and against administrative detainee Mohammed Allaan. On my way there, however, I was told there was no one there anymore. Protests come and go in the summer. Almost like administrative detainees.
Mohammed Allaan is a more accurate Israeli story than the Shayetet disaster and Operation Protective Edge. The story we don't want to tell ourselves. If Israel capitulates to the pressure from an administrative detainee, it would not be able to withstand bigger pressures. Not another Entebbe Operation; not annexing Gush Etzion as the basis of a broader agreement; not finding a solution to the Bedouin issue in the Negev; or taking a determined action against lawbreakers.
We could argue about the need for administrative detentions. I'm one of the supporters. In my opinion, it is an important tool in the fight against terrorism (including Jewish terrorism). We could debate whether putting Allaan in administrative detention was the right thing to do to begin with. He is a member of the Islamic Jihad, who already served three years in Israeli prison from 2006 for recruiting suicide bombers. We could endlessly discuss the legality of it. But as soon as it was decided there was a security need to have him under arrest, there is no reason to release him.
If such a possibility is available, he could stay abroad for four years instead of being in administrative detention. That possibility should've been brought up before he was detained. If there is a reason to release him early, it should've been on the table regardless of the hunger strike.
There is nothing new about Palestinian administrative detainees going on a hunger strike. In 1968, the first strike was held in Nablus, and since then thousands of prisoners have gone on hunger strike, most of them only in rhetoric. One of the more well-known prisoners was Marwan Barghouti, who led a hunger strike in 2004 and was caught on a hidden video camera eating in his cell. In 2011, Khader Adnan went on hunger strike until the state announced that his remand will not be extended.
Since then, over 100 administrative detainees went on a hunger strike. Allaan is just the latest one. I have no idea if he's suffering from irreversible brain damage, but his release because of the campaign of pressure is an irreversible damage to the seriousness of the judicial system.
The debate surrounding Allaan was filled with slogans and the reversal of roles. The right wing was fighting to keep the terrorist alive, while the left wing insisted on Allaan's right to die, and the Israel Medical Association issued its own statements.
The force-feeding of an unconscious patient includes a process of injecting minerals into his vein. Preserving life. There is also a stage to which I'm not sure anyone really intended to get to. Doctors save the life of anorexia patients, force hospitalization on those who tried to commit suicide. In this case, politics frightened common sense.
"It's hard to understand what's going on here," a foreign reporter interviewing me about the force-feeding law told me. "It doesn't look good from the outside."
She's right. A foreigner wouldn't understand it. Israelis barely understand it. Allaan's death could've started riots. On the other hand, his release is the complete logical opposite of any judicial system that knows what it is doing.
"You know how to fight terrorists," she said, "but not how to deal with passive resistance."
I thought about it for a moment, and eventually I had no choice but to agree. Since the Entebbe Operation, passivity has been lurking in the background. Not on the Palestinian side, on our side. We're waiting on another Palestinian initiative at the UN, waiting on the Americans' agreement with Iran, and only then do we launch a campaign. Waiting for the moment an administrative detainee is in critical condition to release him. Making a decision when there is no choice anymore.