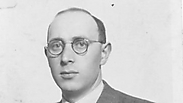 A ceremony was to take place in Jerusalem on Tuesday naming a street named after Moshe Kraus, the man who led the largest rescue operation in the Holocaust.
Kraus, a resident of Budapest, was responsible for the rescue of tens of thousands of Jews at the "Glass House" in the capital of Hungary.
At the Glass House, under Kraus' leadership, documents of some 100,000 Hungarian Jews were forged, which made the rescue from the death transports to Auschwitz possible. Kraus died in Jerusalem in 1986 at the age of 78.
A the ceremony which will be attended by the Mayor of Jerusalem Nir Barkat, Major General (retired) Eliezer Shkedi, whose father Moshe Shkedi was among the survivors of the "Glass House, will speak.
Kraus's rescue operation was not recognized until recently. Recently an exhibition recreating Krauss' rescue operation at the Glass House was inaugurated at the Beit Haedut Museum in the Nir Galim moshav near Ashkelon.
Hungary was a member of the Axis during the Second World War, but it was not until Germany occupied the country in 1944, about a year before the end of the war, that mass deportation of Jews to camps began.