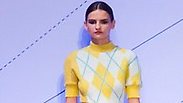 Model in Dana Cohen show
Photo: Rafi Deloya
Shenkar College's Fashion Design Department in Ramat Gan is among the five most influential fashion schools in the world and the 11th-best overall, according to rankings released on Sunday by the influential Business of Fashion publication.

The ranking examined dozens of leading fashion institutions from all over the world based on several criteria, including curriculum, alumni's success and industry influence after graduation, international awards , students' level of satisfaction, and students' grades.

At number five, Shenkar was designated the most influential fashion school outside of New York or London.

"Situated within the metropolitan area of Tel Aviv, Shenkar blends both the technical and conceptual in its curriculum," the website's editors wrote. "During the four-year undergraduate fashion design course, students are exposed to small group peer and faculty critique, where they must defend their concepts and processes in arriving at their finished projects."

The website's editors noted that "83 percent (of graduates) reported in BoF's survey that they secured jobs in the industry within six months."

And of course, the site mentioned the Fashion Department's most successful and well known alumnus, Alber Elbaz, the top designer of the prestigious Lanvin fashion house in Paris – the oldest French fashion house still operating,

The website did, however, criticize the lack of business and marketing education in the college, despite the fact students said they left the department "feeling equipped for a profession in the fashion industry."

Shenkar President Prof. Yuli Tamir welcomed the high ranking, saying: "This is an unprecedented international achievement, particularly regarding the design industry. I'm proud of Lea Peretz, the head of the department, the devoted and professional academic staff, and each of our students and alumni. They each have a place of honor in this prestigious win."