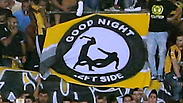 Beitar fans and the sign. (Photo: Oz Mualem)
Jerusalem police has opened an investigation to find those behind the preparation and hanging of a sign with imagery reminiscent of neo-Nazi movements at Teddy stadium in Jerusalem during Monday's soccer game between Beitar Jerusalem and Hapoel Tel Aviv.

The sign, featuring the words "Good night left side" and a drawing of a man kicking another man lying on the ground, was seen held up by fans in the stadium's east balcony, where passionate Beitar supporters sit.

The suspect sign was located slightly above a larger sign representing La Familia, an organization of diehard Beitar fans.

The slogan on the sign, as it turns out, is associated with neo-Nazi organizations in Europe, and was even used by some far-right Israeli protesters in the past.

The slogan "Good night left side" is a modern twist on the slogan "Good night white pride", which was used by Europe's radical left in the past. These days, "Good night left side" is used by far-right groups, especially in eastern Europe (such as in Poland). The logo shows a man hitting another man, with the latter showing a red star, apparently symbolic of leftist organizations.

Beitar Jerusalem officials released a statement on the matter, saying: "The club denounces any sign, statement or behavior that is violent and/or racist. We have declared: No to racism, stop the violence. If the law was violated, the Israeli police and other legal authorities need to take care of the matter."

The Israel Football Association stated: "The Football Association, league management, and the referee's association have been examining the consequences and meanings of halting games for racist behavior and other aberrant situations for a while. This would be widely influential step, which should be taken in cooperation with all the parties: players, clubs, and fans."