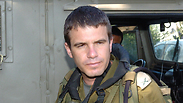 Brigadier General (Res) Gal Hirsch
Photo: Effi Sharir
Gal Hirsch is not up to the task
Analysis: Former Galilee Formation commander excelled in special ops but has not proven himself as a commander and leader of big organizations; he found it difficult to stand up to criticism of his performance in Second Lebanon War and will struggle to defend police officers under attack from all sides.
"Gal Hirsch was not my first choice among former generals and brigadier generals to be Israel's police chief," a very senior defense official told me on Tuesday evening. The man asked that Hirsch be given a chance after already having been appointed to the position. But in his opinion, it was necessary to appoint a police chief who had experience and was already a candidate for the position and not to pick somone from outside, an IDF officer in the reserves, especially one whose military performance was controversial.
I've know Hirsch for many years. As a fellow graduate of the Haifa military boarding school, we met quite a few times and I heard only praise of him from his peers. "He's a bit childish," they told me about him when Hirsch was a senior officer, "but he is a brilliant man, open-minded and creative and is a potential chief of staff." So said people who slept in the same room with him and ate at the same table.
Indeed, during his military service, Hirsch went from success to success. I saw him when he was an operations officer in the Central Command during the difficult days of the Second Intifada, functioning during mass rioting and when the IDF entered refugee camps. He was level-headed and knew what he was doing and why. The same was true when he was in command of a special unit and special operations.
However, during the Second Lebanon War, the tides have turned. As a young commander of the Galilee Division, he was held responsible for the event that sparked the fighting - the abduction of reservists Ehud Goldwasser and Eldad Regev. After the war, the commission of inquiry headed by Maj.-Gen. (res.) Doron Almog established that Hirsch was responsible for several failures that allowed Hezbollah to carry out their ambush plan on the Lebanese border. In light of what was defined as "a professional, profound and fundamental failure on the command level," Almog recommended to discontinue Hirsch's command position and to not promot him in the IDF, and his conclusions were adopted.
Hirsch claimed that he did all that was necessary to prevent the abduction of Regev and Goldwasser and even organized the forces in such a way that abductions could be quickly thwarted. He also accused Almog of making hasty and incorrect conclusions.
During the war, Hirsch went out one day and told the media, "Bint Jbeil is in our hands" - while the facts on the ground were far from that. Later, he claimed he was misunderstood and that he had not said the statement that was attributed to him.
Judge Eliyahu Winograd, who headed the government-appointed commission that investigated the Second Lebanon War, recently justified Hirsch to some extent, claiming that he was harshly and unjustly judged and was forced to interrupt his military service.
This announcement came just in time for Hirsch, who never ceased to fight to clear his name. Meanwhile, Hirsch worked in consulting and security work with Georgia and was appointed to a high reserves position in the Depth Corps. Former chief of staff Benny Gantz values Hirsch's talents in the field of special operations, done deep in enemy territory, and probably wanted to compensate him for the serious damage done to his reputation.
However, it is quite clear that Hirsch's military skills have no effect on his competence and suitability for the position of Police Commissioner. Hirsch is a special operations officer and he excels in this. But he has not proven himself to be a commander and leader of large organizations. The Israel Police force is a complex civilian organization in terms of manpower, and the tasks he has to carry out are for the most part very different from those he carried out in the military.
Hirsch will not only have to learn the roles of the police force and its functioning from scratch, but also how to manage a non-military organization deployed throughout the country, active in areas ranging from drug smuggling through the borders to community policing in slums. He lacks experience, and regarding his personality, it is doubtful whether he is ready to lead an organization that is constantly facing a barrage of criticism from all sides. He should not bend even when politicians make him into a target, or when they try to frighten him.
Hirsch, who had difficulties standing up to criticism after the Second Lebanon War, will struggle to defend the police force and its officers from attacks in the public arena, in the media, and by politicians - whether this criticism is merited or not.
To his credit, Hirsch has the ability to communicate with people and persuade them, he is a master at it and this will certainly help him. But he has a tendency to philosophize and search for creative and unusual solutions where professional work, based on clear rules and the requirements of the law, is required. He was among those who often used vague terms in the IDF and therefore some of his subordinates claimed they did not always understand him. In the police force, it will be even more difficult.
There is no doubt that a police chief from the ranks of the Israel Police force would have been more appropriate than Hirsch in this case, but once he has been elected, we should wish him the best of luck and pray for him and for us that he will pleasantly surprise us.