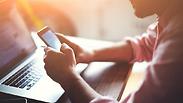 Illustration
Photo: Shutterstock
Cellcom will review a possible purchase of rival Golan Telecom, Israel's largest mobile phone operator said on Thursday, indicating a sector that expanded in 2012 might be set for consolidation.

Golan said a day earlier it was exploring options including a possible sale of the company.

Shares in Cellcom were up 2.2 percent to NIS 27.43 ($7.03) in Tel Aviv. Its New York-listed shares surged nearly 16 percent to $6.75 on Wednesday.

Israel's mobile phone industry was shaken up in 2012 with the entry of six new operators, including Golan, sparking a price war that hit subscriber numbers, revenue and profit at Cellcom, Partner and Bezeq unit Pelephone.

Golan has since gained 850,000 subscribers.

Another competitor is cable TV operator HOT, a subsidiary of European telecoms group Altice. Other players are mobile virtual network operators which piggy-back off of other networks.

Competition has meant all-inclusive calls, texts and Internet packages are available for as little as $15 a month.

Cellcom reported an 85 percent drop in second-quarter net profit and its subscriber base slipped to 2.848 million as it lost 37,000 customers.

Cellcom has said it was negotiating with Golan and the Communications Ministry over a third and fourth generation network-sharing agreement with Golan.

Analysts said it was difficult to put a price on privately held Golan and some questioned Golan's motive in announcing it was contemplating a sale.

They said this could be aimed at pressuring regulators to grant concessions regarding requirements it deploy its own network. Until now Golan has been paying Cellcom to use its infrastructure.

Cellcom is deploying 4G services and Golan would need to buy half that network to meet regulatory requirements.