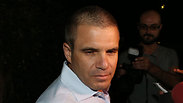 Gal Hirsch
Photo: Tzvika Tischler
Public Security Minister Gilad Erdan's private assumption is that the police's image in the eyes of the Israeli society is so bad, that any police commissioner appointment will be approved. In the sense that any average Joe off the street would appear better than what's currently there.
Erdan wasn't surprised by the shock, outrage and comments made by high-ranking police officers when they heard the news about their new commander. He was prepared for that. For him, the muddied water will disappear because most of the public thinks, like he does, that the change to the organization needs to come from outside. And it was this assumption that Gal Hirsch fell into.
It was just a month ago that Hirsch was still interested in the position of the CEO of Rafael and was considering proposing his candidacy for the job. He is passionate about security and defense, a classic "zealot" who didn't even consider a different career. When, in 2006, the IDF pulled him out of the elevator that, as far as he was concerned, was supposed to take him all the way up to the chief of staff's office, he was stunned. Hirsch had never considered that anyone even doubted his ability to stand at the helm of the military, and was deeply offended.
New Police Chief
Analysis: Former Galilee Formation commander excelled in special ops but has not proven himself as a commander and leader of big organizations; he found it difficult to stand up to criticism of his performance in Second Lebanon War and will struggle to defend police officers under attack from all sides.
Over the past nine years he fought to return to the defense establishment - if not through the door, then through the window. Laundered language uses phrases such as "fought to fix the injustice done to him" or "fighting to clear his name from false accusations" about his part in the failure that resulted in the abduction of reserve soldiers Ehud Goldwasser and Eldad Regev, which sparked the Second Lebanon War, and the failed attempts to prevent the terrorists from disappearing deep into Lebanon.
In reality, what motivates him is the need to prove to everyone what a mistake they made when they didn't put him at the top of the pyramid. And if not the top of the military pyramid, then at least another defense pyramid. The police is a fitting alternative.
At Erdan's office, and later at the Prime Minister's Office, Hirsch's name was raised as a candidate for the police commissioner position three weeks ago. But back then his name was mentioned in the same breath with Maj.-Gen. Sami Turgeman, Maj.-Gen. (res.) Yiftah Ron-Tal and other major generals whose names were raised and then discarded, each for different reasons.
Netanyahu's preferred candidate was Yiftah Ron-Tal, director of the Israel Electric Corporation, but those in his circle – such as the Cabinet Secretary, who once served as the Military Advocate General and made sure Ron-Tal didn't finish his service without a note regarding inappropriate behavior - stressed to Netanyahu that this is an appointment that could cause problems, much like the problems caused by Yoav Galant's appointment to chief of staff.
Attempts to bring back to police ranks major generals who retired, like Yair Itzhaki, also ended without results.
And so it was that the last name Erdan and Netanyahu agreed on was Gal Hirsch.
It's hard not to suspect that the prime minister decided to toe the line with Erdan on Hirsch to teach his young and popular minister a little lesson. As far as Netanyahu is concerned, perhaps it would be better if the reformer minister, who gets a lot of headlines, who turned the Israel Broadcast Authority on its head and now wants to do the same to the police, gets a little singed around the edges. A little bit of slander, a little bit of public criticism over the move, and perhaps the appointment falling through - could put Erdan back in his place.
Hirsch's name first came up in consultations the minister held with different top security officials. Among others, Erdan consulted with former IDF chief Benny Gantz, and asked to hear his opinion on several IDF officers. Hirsch was mentioned as an option, on the condition Erdan was willing to compromise on the status of the candidate: Go down from a former major general to a former brigadier general. As far as skills were concerned, Hirsch had no less advantages than several major generals mentioned as candidates.
Gantz was a key figure in the twists and turns of Hirsch's career. The appointed commissioner was the deputy of the former chief of staff in the Shaldag Unit and served under him as the Binyamin Brigade commander when Gantz was the Judea and Samaria Division commander. Gantz was also the only one willing to allow Hirsch back into the army. It wasn't Halutz, during whose time Hirsch sought to retire from the army after realizing he wasn't going to be promoted, nor Ashkenazi, who refused to even hear about allowing Hirsch back.
The former commander of the Galilee Division knocked on every door in an attempt to change the cruel decree and save his honor. He got all the way to defense minister Ehud Barak, who didn't see any reason why Hirsch couldn't don his military uniform once more, but had to wait until Gantz became chief of staff and approve a request from Maj.-Gen. Shay Avital, the first commander of the Depth Corps, to appoint Hirsch as his deputy.
In early 2012, Hirsch started his job at the Depth Corps, which is responsible for the activities of Special Forces deep in enemy territory, as well as planning the campaign against enemies in the second and third circles. But in this job, as well, all of his options were blocked. Even current IDF chief Gadi Eisenkot, who praised and hailed him for his contribution to the country, the IDF and the Second Lebanon War, and stressed the injustice done to him, made it clear that Hirsch would not be promoted to major general under his watch either.
Earlier this month, a strange ceremony, almost imaginary, took place. The Depth Corps said goodbye to Hirsch after fruitful three and a half years of service. Such goodbye ceremonies from reservists happen every day in the IDF. A modest ceremony, some well wishes, a toast, a small memento, and a farewell handshake. Maj.-Gen. (res.) Tal Russo was sure his deputy received a modest ceremony, as is common. To his surprise, there was an impressive ceremony, with a large audience, which included a performance and a speech by the IDF chief of staff.
Eisenkot gave Hirsch a goodbye ceremony from the IDF with a speech that completely cleared his name with regards to his part in the Second Lebanon War. The rehabilitative speech - that was also released to the media - was meant to soften the blow that came with the fact the chief of staff did not foresee a future for Hirsch in the IDF.
It's doubtful that Eisenkot was aware of the possibility that in three weeks, Hirsch would be appointed police commissioner. For nine years now, the chief of staff has had to carry the burden of the injustice done to the IDF in that war, and in every opportunity he stresses the war's strategic achievements. Hirsch's goodbye event was another opportunity to do just that.
Originality for originality's sake
There's no evidence that Minister Erdan thinks police work isn't a profession, and that an ignoramus can stand at the top of the police pyramid. You won't hear the old Dan Halutz adage, that "to be a shepherd one needn't any experience with being a sheep," come out of Erdan's mouth. But he does believe that success as police commissioner requires, first and foremost, management skills, and assuming the candidate is a talented individual, that he would likely acquire the knowledge and experience quickly.

With the Israel Police in its current state, what's needed is a strong and atypical manager, who'll know how to motivate people and use resources smartly. Erdan's working assumption is apparently that Hirsch can fill in his professional gaps with quick learning and good leadership skills.

For some reason, the assumption that the IDF and the police are similar organizations has taken root, and apparently Erdan believes this as well. Both organizations are hierarchical and total, thus you can move high-ranking IDF members to the top ranks of the police (interestingly, it doesn't work the other way around).

With the state of the police as bad as it is, Hirsch is painted as the military man to make things right by changing the organization's culture. He's the man to instill values in it. In his police force, male officers won't be fantasizing about their female colleagues. When he was commander of Bahad 1 (the IDF's officer training school), Hirsch forbade male and female cadets from walking hand-in-hand on base. He's also supposed to bring back some team spirit to the police, and that's why Erdan believes Hirsch will receive support from within police ranks.

When considering Hirsch's nomination, Erdan likely saw before him precedents like the appointment of Ami Ayalon as head of the Shin Bet during a time of crisis (after the assassination of prime minister Yitzhak Rabin in 1995), as well as the appointments of deputy commissioner Yaakov Ganot to head the Israel Prison Service (IPS), Maj.-Gen. (ret.) Meir Dagan as head of the Mossad, and deputy police commissioner Shahar Ayalon as head of the Israel Fire and Rescue Services. Each one of these examples is better than the last, but Erdan's assumption requires proof.

There's no doubt that Hirsch has good learning skills. The man is blessed with talents, intelligent, ambitious, a careerist, and as the minister himself said this week, "I saw in him a great hunger for success." What attracted Erdan to Hirsch is probably the latter's original thinking. But in Hirsch's case, it seems to sometimes be originality for originality's sake.

The criticism leveled at Hirsch by the Winograd Commission over the IDF's Galilee Division's preparedness for prevention of the abduction of soldiers was not made because Hirsch's ideas or situational perception were seen as wrong. In fact, commission members praised Hirsch for his initiative and originality. "The division commander tried to change the Galilee Division's defensive perception," they wrote, but in the same breath mentioned that "the success of the plan depends on discipline, practice, and oversight – and it's doubtful if these were implemented."

In other words, the commission concluded that Hirsch was alright in theory. His plan was great. But in real time it failed (leading to the abduction of Goldwasser and Regev), because Hirsch didn't do what a commander is supposed to – bringing the plan into practice and testing it. Winograd would soften his criticism in time, but the very bad results of Hirsch's actions can't be changed.

Maj.-Gen. (res.) Doron Almog, who headed a military investigative commission that examined the abduction of Regev and Goldwasser, was much more severe. He communicated a simple message: This isn't how things are done. Philosophizing isn't part of military practice. A commander's most important tests are the real results of his actions. Such a dramatic failure should be accompanied by a deterring punishment that sets a new norm: This officer will not command people any longer.

Hirsch saw these words as an intolerable insult. Even a later commission of three major generals who reviewed his case and dismissed some of Almog's stinging rebuke didn't dull the pain. The IDF allowed him to continue serving, but the knowledge that he was no longer part of the officer class headed for the IDF's top ranks led Hirsch to retire.

In his parting words to the Galilee Division, he said: "There's a wide gap between the popular belief and what really happened. Time will pass, and the story of the war will level out and be put in its correct place." That's his motto, to this day, and he even wrote an autobiography on the base of it, called, "War Story, Love Story."

In his book, Hirsch blames, among others, intelligence agencies for not sharing with him information that was available. He claims that such information could have prevented the Galilee Division from lowering its level of alertness on the border leading up to the time of the abduction. Only, that argument was rejected by a commission headed by Brig.-Gen. (res.) Pinhas Buchris, which examined the war's intelligence aspects.

Hirsch understood that when fighting died down, the abduction will become the main news again. That's why he made sure, while fighting was ongoing, to give the media his side of the story. He did it by telephone on July 18, 2006. A day earlier bulldozers of the Galilee Division went into Lebanon to demolish Hezbollah's first line. The next day, the division operated in Maroun al-Ras.

Between operations, Hirsch explained to the media,"A week or two ago we saw that there wasn't any intelligence, or tension, and the division transitioned to a low-signature protocol – no movements along the border fence, all deep actions… they (Goldwasser and Regev's patrol) are moving on the Northern Road, not on the fence."

Two narratives were present during the call. The first – there wasn't any alert from intelligence sources. The second – precautions were taken and movement along the border was done deep inside Israel's territory, not near the fence. Almog apparently didn't accept these.
Hirsch's guru
Even if Hirsch's learning capabilities are extraordinary, they're only relevant if he has the right teachers: High-ranking current and former police officials who'll bring him into the profession. If Yitzhak Aharonovich was still public security minister, he could have helped out, being a former deputy commissioner. But Erdan, like Hirsch, is a rookie in the field. It's also doubtful if the former commissioners and deputy commissioners currently protesting the nomination will be willing to assist the intended chief.
Dan Halutz entered the role of IDF chief of staff with an agenda of widespread reform of the army, but from day one he did not have cooperation from the army officers around him (Halutz was an Air Force man). He had strong backing from the defense minister, as well as plenty of confidence and ability, but without the loyalty of people under him it didn't work.
In the Second Lebanon War – the ultimate test – he found himself alone. Hirsch is also entering a role in which people under his command don't want him there, won't give him much credit, and probably won't show him much loyalty. But above all, Hirsch isn't Dan Halutz. He isn't coming in with the aura of an Air Force commander. And Erdan, by the way, isn't Ariel Sharon yet either.
Hirsch has already passed a similar test before. It happened in 1993 when he was appointed as commander of the elite IAF commando unit Shaldag. He came to the unit as the outstanding commander of 202nd Paratrooper Battalion, where he implemented new fighting techniques that he imported from the Paratrooper Brigade's Special Forces, and also began the use of pack animals and special vehicles to aid patrols in mountainous terrain.
But when Hirsch demanded discipline from Shaldag fighters, as he was used to doing in the Paratroopers, he saw before him a loose bunch of soldiers who admired their former commander who gave them more freedom. The clash of worlds created an immediately explosive environment. A mutiny.
Hirsch understood that he couldn't back down from the orders he gave, otherwise he'd lose the ability to lead this elite unit. And here he came up with a brilliant move: At the advice of friends, he decided to recruit some of the unit's veteran reservists to convince commanders to accept his authority. Hirsch reached out to Arik Shor, current CEO of Tnuva, Muki Betser, who was among the unit's founders, and Yuval Diskin, who was already in a command role at Shin Bet. They disagreed with his ways, but managed to convince the Shaldag fighters that the unit was what's really important.
At the end of the day, Shaldag under Hirsch didn't just get back on track but earned two commendations. He himself was not only shown to be a talented commander, but also an especially brave person. One of the unit's highest points was during Operation Grapes of Wrath in 1996, when Hirsch led it deep into Lebanon to help Air Force planes hit their targets accurately.
The second crucial component for a police commissioner's success, after management skills, is leadership ability. Hirsch is a charismatic leader, with impressive verbal abilities. There's no doubt that he's the best presenter the police could find, and will know how to work with the media toward accomplishing his goals. But Hirsch also brings with him the baggage of a complicated personality, which is doubtful the police can take in.
Inside the IDF, Hirsch was part of a group that stood underneath the umbrella held by Moshe Ya'alon, first as GOC Central Command and later as IDF chief. It was a group of officers that saw itself as comprised of intellectual types and brought sociology and anthropology into the military. Its members invented a new language of combat, built a complex operations perception, and exhibited quite a bit of arrogance.
The group members saw themselves as no less than combat science philosophers. These officers didn't really take these sciences to the limit and studied them academically, but they had a guru, or rather two: Brig.-Gen. (ret.) Shimon Naveh and Brig. Gen. (ret.) Dov Tamari, their instructors in the Institute for National Security Studies. Hirsch saw Tamari as his role model.
The rest of the military couldn't stand this officer group. Following the Second Lebanon War, a lot of criticism was pointed toward it. Its members became outcasts in the IDF. There were even those who blamed the failure of force application in the war on the group's takeover of IDF discourse.
As IDF chief, Gabi Ashkenazi flipped things around, and weeded this group's spirit out of the military. Tamari and Naveh's work on training officers was halted. If Hirsch is planning on coming over to the police with this attitude and lecturing officers about criminology and anthropology, he'll lose them from the start.
No sunscreen
Hirsch's social skills aren't his most notable attribute. One result of the elitist intellectual superiority he ascribed to himself is that he did not manage to weave together a notable network of social contacts in the IDF. These contacts were supposed to act as a safety net for him in times of need. And indeed, after the 2006 war, with public opinion laying the blame at the military's feet, Hirsch found himself without protection. Ya'alon was already out of the IDF, and the division commander became an easy target. A number of other commanders from that war continued their service and were promoted, but Hirsch was not forgiven.
At the end of the war, Hirsch was offered the role of head of strategy in the IDF Planning Directorate. That's the place for philosophizing. Commanding soldiers? Not in your future here.
One of the war's traumatic images was a conversation between officers that was filmed and broadcast, without their knowledge, where the 7th Brigade's commander, Col. Amnon Eshel, can be heard complaining about Hirsch – claiming that he's creating confusion and sending out orders that are difficult to understand. Eshel was punished for what he said, but for the military leaders this was the best ammunition they could ask for against Hirsch – evidence that he can't command people.
The assumption that there's a similarity between the military and the police requires proof as well. True, both are hierarchical and total organizations, but their DNA is substantially different. The police, even more than the IDF, is built out of layers that each have their own agendas. The upper echelon of officers has its own agenda. So do the mid-tier officers. And then there are the investigators, the demolitions people, the traffic officers and the operations people. Each is pulling in a different direction.
To change the organization's culture, you need to change its DNA. And to change its DNA you have to penetrate these layers and mold them in your image. This looks, right now, like an impossible mission. Without full, open, transparent cooperation, the police will sell Hirsch a bag of goods. Each of these groups of people will tell him what it wants him to know.
The police commissioner, according to Erdan's ideal, should be a charismatic figure. But to succeed, Hirsch will also need major political backing – by Erdan himself, as well as the prime minister. In fact, he needs it already, so he doesn't suffer the same fate as Yoav Galant (who was nearly appointed IDF chief and passed over at the last minute). Politicians are always spinning like wind turbines – they could still run from this appointment.
Erdan was mistaken when he didn't prepare the ground for Hirsch's nomination. He said he'd prefer that the next commissioner come from within police ranks, and confused officers. He may have acted like a common politician, who doesn't have to keep promises, but Hirsch is the one who'll pay the price.
And no less severe: The appointment of police commissioners, like the appointment of IDF chiefs, is a travesty that's been pointed out by former state comptroller Micha Lindenstrauss a number of times. It's a dark nomination: No committee, no criteria, no attorney general's opinion. The Turkel Committee starts working only after the public announcement. It turns out we didn't learn anything from the Galant affair.
Hirsch seems, on the surface, like a morally unblemished person. But after his nomination is approved by the government, mudslinging will go up a notch. Somebody will remember that in the past few years he made a living exporting military knowledge and weapons abroad. And by the way, those who accuse him of not building up forces enough are wrong: Hirsch built the Georgian army up to absorb a Russian invasion. Probably not by any fault of his own, that army was defeated before it even started fighting.
There will also be those who search underground: Which oligarchs were connected to his business, who was where and did what. If such a complaint is received by the Turkel Committee, which is supposed to give an "acquittal" to the nominee, will there even be time to examine it?
Erdan shouldn't have created the foggy conditions around the nomination. He must have worried about someone sabotaging it, but that still doesn't make his actions correct in a democratic state.