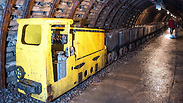 A train similar to the one discovered
Photo: EPA
A Polish official says he has seen images made by ground-penetrating radar that seem to prove the discovery of an armored Nazi train missing in southwestern Poland since World War II.

Local lore says a German train filled with gold, gems and armaments went missing around the city of Walbrzych while it was fleeing the Red Army in 1945. Fortune-hunters have looked for the so-called "gold train" for decades, and in the communist era, the Polish army and security services carried out apparently fruitless searches for it.

Deputy Culture Minister Piotr Zuchowski called it an "exceptional" discovery and said the train could contain valuables.

He said he was "more than 99 percent certain that this train exists."

Nazi Gold train

The discovery in western Poland has perked up the ears of treasure-hunters to such a degree that the government felt the need Thursday to warn them it could be booby-trapped.



Local media have for days been abuzz with old lore of trains full of gold and jewels stolen by the German Nazis after two men -- a German and a Pole -- claimed to have found an armoured train car in the southwestern city of Walbrzych.

"There may be hazardous substances dating from the Second World War in the hidden train, which I'm convinced exists," culture ministry secretary of state Piotr Zuchowski said in a statement.

"There's a huge probability that the train is booby-trapped."

Zuchowski said there has been a marked increase in treasure-hunting in the Walbrzych area since the "discovery of the so-called gold train".

"I urge the public to stop searching for the train until official procedures to secure the find are completed."

Walbrzych officials have said the train was found on city land but are keeping its exact location under wraps -- ditto for the identities of the two men.

Their lawyer Jaroslaw Chmielewski said they provided local authorities with a description of the train carriage, which is allegedly armoured and 120-150 metres (400-500 feet) long.

He added that they expect a finder's fee of 10 percent of the value of whatever may be on the train but are skeptical it contains gold.

Nazi Germany had concentration camp inmates build the huge tunnels -- code-named Riese (Giant) -- to use as production spaces for strategic weapons, as the site was safe from Allied air raids.

Located in the passages were underground Nazi shelters as well as one of Adolf Hitler's headquarters.

Portions of the tunnels are now open to tourists while the Polish Academy of Sciences stores seismographs in the deepest section.

According to some reports there was also a two-kilometre (one-mile) underground sidetrack whose entryway was dismantled or blown up when Nazi Germany surrendered.

Though technically plausible, the sidetrack's existence has never been proven.

Lamparska is taking the rumoured train discovery with a pinch of salt, adding that it is not the first claim of its kind.

AP and AFP contributed to this report.