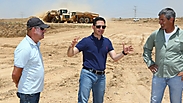 Mayor Ruvik Danilovich at the site (Photo: City of Beer Sheva)
Construction work has begun on an ambitious project to build Israel's largest man-made lake in Be'er Sheva, spanning 90 dunams.

The lake will be filled with high quality reclaimed water from the cities water treatment facility. The waters will play host to range of fish, swans and small boats. The project is estimated to cost NIS 100 million and will be funded by: The city of Be'er Sheva, the Ministry of Environmental Protection, the KKL and the US JNF. Work on the lake is set for completion in 2018.

The construction is an important and central step in the project to develop a large park in the Be'er Sheva River area, which will include: A body of water spanning 90 dunams, a boardwalk, bike and running paths, a central island, a bird island, a pier and bridges, unique water fountains, three picnic areas, 15 dunams of decking, meeting areas, commercial areas, restaurants, cafes and restrooms, as well as large grass fields for the public at large to enjoy. The project including the lake will span an area of about 450 dunams, and will be completely open to the public.

The construction work on the lake is being conducted by the KKL, in cooperation with the Shikma-Basor Drainage Authority, and the Economic Organization for the Development of Be'er Sheva.

The mayor of Be'er Sheva, Ruvik Danilovich, who green lighted the project, visited the construction site a number of times in recent weeks, and even held a tour for Environmental Protection Minister, Avi Gabai, in order to closely watch the progress of the work.

Danilovich said: "The lake facility will be the focal point of the Beer Sheva River Park. We are creating an attraction on an international level, and are turning the city into a living breathing oasis, for the benefit of all the Negev's citizens."

"In working with all our trusted partners, we are turning a dream into reality and pushing forward true change. The entertainment and vacation culture of the entire Negev are going to change dramatically.

"It is truly visionary to see boats sailing, fish swimming, and swans resting in the heart of the desert. In addition to these things, the park will provide varied facilities for the public's enjoyment and needs. I want to thank the Israeli government – the Ministry of Environmental Protection, the KKL, and the US JNF for the opportunity to make this vision a reality."