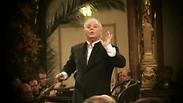 Iran has barred famed conductor Daniel Barenboim from entering the Islamic republic because of his Israeli citizenship, thwarting his plan to lead a performance in Tehran, media reported Sunday.

Barenboim, the 72-year-old general music director of the Berlin State Opera House, said Thursday he was in talks with Iran about a concert, in what would have been a major example of cultural diplomacy.

But an Iranian culture ministry spokesman, Hossein Noushabadi, said an investigation meant Barenboim could not enter the country for "security reasons," though the Berlin orchestra was welcome.

"We have no problem with the German orchestra coming to Iran, but we are opposed to the person leading that group," Noushabadi said, quoted by news agency ISNA.

"He has multiple nationalities and one of them is Israeli. For security reasons and to prevent issues following the entry of certain people into Iran, we stopped it."

Barenboim also holds Argentinean and Palestinian citizenship.

"Our reviews revealed that the conductor has nationality and identity dependence to Israel, was raised in Israel and his parents have also lived there," Noushabadi added.

"So the suspicion of him being related to that country, which is illegitimate to us, was there."

Iran does not recognize Israel as a state, usually referring to its leaders as "the Zionist regime."

German Foreign Minister Frank-Walter Steinmeier, who is expected in October to travel to Tehran following a July 14 nuclear deal between Iran and six world powers, had agreed to back the concert.

Steinmeier did so because he "supports Daniel Barenboim's dedication to making music accessible to all people, irrespective of national, religious or ethnic boundaries," a statement said.

Israel has been the world's most vocal opponent of the nuclear agreement between Iran and the United States, Britain, China, France, Russia and Germany.

Barenboim's plans had drawn an angry response from Israel, whose Culture Minister Miri Regev said she intended to send a letter of protest to German Chancellor Angela Merkel asking her to block the concert.

She accused Barenboim - who founded a groundbreaking youth orchestra called the West-Eastern Divan Orchestra in 1999 bringing together Israeli, Egyptian, Iranian, Jordanian, Lebanese and Palestinian musicians - of "using culture as a platform for his anti-Israel political views."

He is also controversial in Israel for his efforts to have the music of Richard Wagner, the German composer adored by Adolf Hitler, performed in the Jewish state.

The prominent Jewish rights group, the Simon Wiesenthal Center, also hit out at the concert plans.