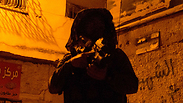 An Israeli soldier was moderately wounded in clashes that erupted Monday night in Jenin in the northern West Bank after Israeli security forces entered the area to arrest a wanted Palestinian suspect. The military is investigating the possibility the soldier was wounded by friendly fire.
The clashes lasted till dawn Tuesday.
At least five Palestinians were also wounded in the clashes, and were transported to a hospital in Jenin in light condition. There were conflicting reports on the nature of the Palestinians' injuries, with Palestinian medical sources saying the five were wounded by rubber bullets, while the head of the Red Crescent in Jenin said they suffered from smoke inhalation. Some reports said as many as 20 Palestinians were hurt.
During the raid, hundreds of Palestinians rioted in the area, hurling rocks and firebombs at the Israeli forces, the military said.
The Palestinians said that heavy gunfire broke out in fighting between the Israeli troops - which included IDF and Border Police counterterrorism troops, as well as Shin Bet operatives - and Hamas and Islamic Jihad fighters.
At first, the IDF Spokesman's Unit said the forces were fired upon, but later said troops "heard gunfire."
Palestinian sources reported that the IDF was trying to arrest Bassam al-Saadi, a senior Islamic Jihad official in the West Bank, who spent time in Israeli jail and was released in 2011.
The Palestinians claimed that soldiers had fired a rocket at Saadi's home. According to the reports, Saadi was outside of the building at the time and was unharmed. Hamas and Islamic Jihad sources in Jenin said Saadi was able to escape and evade arrest and was "alive and wasn't killed."
Security forces also surrounded the home of the Abu Alhaija family, suspected of having ties to Hamas' military wing in the West Bank. Palestinian sources said Majdi Abu Alhaija was arrested, as well as his brother Alaa, his 15-year-old son and his mother. The house itself was demolished by the IDF.
The wounded soldier, from the Border Police's Yamam (counterterrorism) unit was evacuated by helicopter to Rambam Medical Center in Haifa where he received care and doctors said he was in stable condition.
Shortly before dawn, a rocket was fired from the Gaza Strip toward Israel early Tuesday, but the rocket appeared to have landed inside Gaza, the Israeli military said.
A small Salafist group in Gaza affiliated with the Islamic State group claimed responsibility for firing two rockets Tuesday toward Israel, saying it was in retaliation for the West Bank arrest raid.
Reuters and the Associated Press contributed to this report.