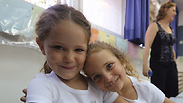 First day of school
Photo: Gil Yohanan
When I entered the Education Ministry I sat and tried to remember my own time at school. To be honest – I didn't remember math class, I didn't remember English class or Hebrew class. I remembered the teachers vaguely, and did not at all remember the classes. What did I remember? Every detail about Jerusalem, our capital. And not because of any class.

When I was in fifth grade, my teacher asked me to prepare a report on Jerusalem and its history, and then had me participate in a play about the city (in the lead role!). That's how I got to know Jerusalem's songs. Since then – Jerusalem hasn't left my heart. And that was without classes or tests, and with great enjoyment.

And why do I remember this? Because I gathered the information on my own. No one taught me. The experience shaped the learning process, instead of the other way around. That's the education system I see in the future: Values before grades, but the values will lead to grades.

Our education system needs to help mold people, not be an assembly line for people's grades. And for that to happen, we need children to be treated more personally.

Starting this morning, the children entering the first grade, including my daughter Abigail, will enter much smaller classrooms – with 29 children on average, and no more than 34 in any case. Teachers will be able to see every girl and boy – your strengths, your weaknesses, you.

The less-able members of our society also count: They are the ones who truly strengthen us. That's why we invested NIS 135 million in making the education system more accessible to those with special needs: Ramps for handicapped students, special iPads for visually impaired students, and acoustic classes for the hearing impaired. The lesson a child learns when he sees that society fits itself to the needs of his special needs friend is more important than any class he'll take in school.

This year we decided to flip the pyramid: Start with taking care of pre-school education. The second pre-school assistant reform will bring with it – right at the start of the school year – an extra assistant to pre-schools for 3-4 year-olds, and extra budgets as well.

This is the first time I've reached this day with 2.2 million students under my responsibility, besides my own four children. These students are of different religions, ethnicities, beliefs, and loves. 2.2 million students that are all my children.

And as much as I'm excited, I'm also responsible and committed to ensure that each and every one of you has a good year, a year that will give your teachers the tools to bring you and the entire education system to new heights.

So let us have a great year, a year of education. I love you dearly, the children of Israel.