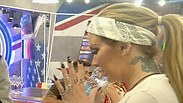 Jenna Jameson
Photo: Channel 5
A loud argument broke out in the UK vs. US season of "Big Brother VIP" this week between former porn star Jenna Jameson and former model Janice Dickinson over kosher food.
Jameson is engaged to Israeli diamond dealer Lior Bitton and is in the process of converting to Judaism.
The argument broke out when Dickinson, 60, felt a pang of hunger and took celery from 41-year-old Jameson's separate kosher fridge.
The other residents in the Big Brother house encouraged Jameson to confront Dickinson, and the two shouted at each other until Jameson gave Dickinson the finger. The two women later reconciled.
Kosher conflict on Big Brother VIP
The kosher food incident happened shortly after singer and model Tila Tequila was booted out of the Big Brother house only a day after entering it over anti-Semitic posts she made on Facebook, including a photo of her with a swastika on her arm.
Tequila insisted after being removed from the Big Brother house that, "I am in no way, shape or form a racist nor anti-Semitic, and absolutely 100% not a Nazi supporter. It was a careless mistake I made in 2013 while suffering severe depression, drug addiction and (being) suicidal."