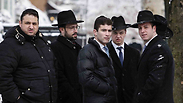 Hardi Jews in Brooklyn, New York
Photo: AFP
The rise of Orthodoxy within the American Jewish community is to change the profile of US Jews in several ways, an analysis of a groundbreaking 2013 Pew survey revealed last week.
The Orthodox American Jew is younger, has twice as many children as other Jews, and politically, votes Republican. The Pew Research Center, a nonpartisan US think tank, published in 2013 the most comprehensive survey ever of American Jewry, and its researchers have since been analyzing the data.
The analysis reveals that the Orthodox American Jew differs fundamentally from all other Jews in the United States, starting from his political affiliation (The Haredim and Modern Orthodox mostly vote Republican, in contrast to the traditional Jewish attachment to the Democrats) to differences in education and demographics.
Modern Orthodoxy is only 31 percent of the Orthodox sector, the majority of which, 62 percent, is Haredi. In accordance with the current analysis, based on the 2013 data, Orthodox Jews make up about 10 percent of the estimated 5.3 million Jewish adults (ages 18 and older) in the US.
If this trend continues, and the researchers expect it will, it will be precisely Orthodox Jews who will shape American Jewry politically and culturally, and they will change the familiar Jewish-American profile known today, noted for its liberal bent.
A decade younger and monogamous
The median age for the adult Orthodox population is 40, the lowest number in a decade compared to other American Jews, whose median age is 52 years. Accordingly, no less than a quarter of the Orthodox are between the ages of 18-29.
According to the analysis the Orthodox are strictly monogamous. No less than 69 percent of them are married, compared to other American Jews (49 percent). The young Orthodox man is likely to be married at the age of 25. Sixty-eight percent of those married reported that they were married by age 24, compared with 27 percent of all American Jews.
Whereas Jews as a whole in the United States (aged 40-59) have 1.7 children per family, the Orthodox of comparable age have at least 4.1 children per family.
Haredi Jews are much more likely than the Modern Orthodox to have at least four children currently living at home (27 percent vs. four percent). By contrast, most Conservative and Reform Jews do not currently have any children living in their household (78 percent and 75 percent, respectively).
1/3 of haredim: A high school education or less
What about education? The Orthodox, it turns out, have a clearcut majority when it comes to Jewish education. Orthodox students are 81 percent of those receiving a Jewish education, and 98 percent of Orthodox Jews said their children are learning in Jewish educational institutions.
Unlike the average American Jew who is considered particulary well-educated, the haredim tend to have less formal education compared to other subgroups, one third of them have only a high school education or less. Thirty percent of both Conservative and Reform Jews have university degrees, compared with 17 percent of Orthodox Jews.
More in common with white evangelicals
Orthodox Jews have more in common with white evangelical Protestants than with other Amercian Jews. Both large majorities of Orthodox Jews (83 percent) and white evangelicals (86 percent) say that religion is very important in their lives, while only about one-fifth of other American Jews say the same. About three-quarters of both Orthodox Jews (74 percent) and white evangelicals (75 percent) say that they attend religious services at least once a month.
The most Zionist
And what about Israel? No less than 61 percent of Orthodox Jews express a special attachment to Israel, compared to only 27 percent among the other subgroups. Modern Orthodox Jews have an even higher rate of attachement at 77 percent compared to the Haredim, with a rate of 55 percent.
Regarding the question of the importance of Israel to their Jewish identity there is a split with 79 percent of the Modern Orthodox saying that Israel is particularly important, wheras only 45 percent of Haredim saying so. Yet these are particularly high rates in relation to the total Jewish population in the United States.
On the Jewish-Arab conflict, Orthodox Jews were less than half as likely as other Jews to say that Israel and an independent Palestinian state can coexist peacefully. Non-Orthodox Jews also were much more likely than Orthodox Jews to say that building Jewish settlements in the West Bank hurts Israel's security (47 percent as opposed to 16 percent).
In one respect only, there were findings that were displayed across the board - The question of Jewish pride. No less than 98 percent of the Orthodox and 94 percent of the Reform and Conservative reported that they were proud of being Jewish.
Experts on the relationship between Israel and US Jewry expressed optimism. Jay Ruderman, president of the Ruderman Family Foundation which works to strengthen the ties between Israel and American Jewry, says that "despite the last Pew survey showing that the Orthodox Jewish sector is the fastest growing sector in the US, one must keep in mind that it still represents a small part of the American Jewish community."
He said that "it is very clear that American Haredi Jews in the United States lead a vastly different lifestyle from their counterparts living in Israel. It is very important that Israelis follow and understand the changes occurring in American Jewry, as this important and powerful community continues to have a direct influence on Israel's security and economy.'