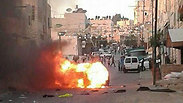 Firebomb attack in Hebron.
Five American yeshiva students were attacked with stones and Molotov cocktail, setting their car on fire after accidentally entering Hebron Thursday night - and were saved by a Palestinian who sheltered them from the mob.
Two of the students, around 21 years old, were lightly wounded in the incident and were treated on the scene after declining to be taken to hospital when security forces arrived in the area to bring them to safety
The yeshiva students being extracted from Hebron (Video: B'Tselem) (צילום: נאייף דענא, בצלם)
The Americans were on their way to the Cave of the Patriarchs but accidentally entered the Jabel Johar neighborhood in Hebron.
One of the five spoke to Ynet, reliving the moment of the attack, saying that he had lost his tefillin, his money, and his
passport in the burning vehicle.
צילום:"חברים לשעת צרה"
A local resident, Fayez Abu Hamdia, sheltered the five in his home until they were evacuated by IDF troops who arrived in the area.
"I'm not a hero," Abu Hamdia told Ynet. "I did what needed to be done."
Hamdia said that the incident had taken place just outside his house. "As soon as we saw that a riot was starting outside, my family and I managed to bring them inside and we quickly closed the doors," he said. "We gave them water to drink and tried to tell them that they were safe, but they didn't speak Arabic."
According to Hamdia, the five spent some 40 minutes in his home until the IDF arrived to extract them. Both the tourists and the soldiers thanked Hamdia.
"We are all human first and foremost," said Hamdia. "That's how everyone should behave. We have no problems with the Israelis and we don't want to have any."
Video from the scene. (צילום:משה בוטביה - סוכנות תצפית)
According to Jewish settlers, an IDF outpost at the entrance to the neighborhood was handed over to Palestinian security forces just a few days ago.
The five were said to be on the way to visit the tomb of the Patriarchs when they accidentally entered Hebron.