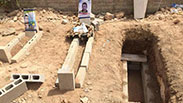 The third victim of the July 31 arson attack in Duma, Reham Dawabsheh, succummbed to her wounds early Monday morning. Reham, 27, was critically wounded in the attack and suffered from burns to 90 percent of her body. She fought for her life at the Sheba Medical Center in Ramat Gan for a little over five weeks.
Marchers at her funeral procession in the West Bank could be heard chanting, "Oh, Hamas, oh, al Qassam, attack them, the blood of the martyrs is calling you."
Reham's son, 18-month-old Ali Dawabsheh, died in the fire, while her husband Saed Dawabsheh, who suffered burns to 80 percent of his body, fought for his life for a week before succumbing to his wounds
Ahmad Dawabsheh, her elder son, is still suffering from burns to 60 percent of his body, but has shown a slight improvement in his condition. He recently woke up and communicated with his surroundings.
Family members and relatives reacted to the death soon after the news broke. Mohamed Dawabsheh, a close family member, said: "We are saddened by Reham's death, and feel great anger at the Israeli government which has failed to reach the killers and criminals. We have no faith in the Israeli government. Instead of arresting the people responsible for this act of terror, they encourage hurting us. This time they killed three members of the same family, and we still don't know what's waiting for us."
Reham's father Hussien also reacted to the news, saying, "We felt that Reham would not survive. This whole time we were praying for her, and wishing her a speedy recovery, and after all attempts to save her failed, she died a martyr and a hero. Rahem was a strong and brave woman who always helped others at her own cost. I'm sure that no one will be able to forget her.
"The boy, Ahmed Dawabsheh, is speaking, eating and drinking, but we still feel how sad he is," he continued. To this day he still asks, 'Where are my mom and dad? I want them next to me. When will they come? I miss them.' These words make us emotional, and cause us to cry all the time. Its hard for me to accept the situation in which they died martyrs."
The official Palestinian responses soon followed, with Hamas and Fatah officials fanning the tensions which had already been building on the ground since the incident occured.
Mahmoud Abbas began by declaring three official days of mourning in response to Reham's death.
High -ranking PLO official Saeb Erekat also reacted to the death, placing responsibilty on Israel, and saying, "Over a month has passed and the Israeli government hasn't yet brought the terrorists to justice," Saeb Erekat, secretary-general of the Palestine Liberation Organization, said in a statement.
"If Israel is not stopped and held accountable, then Riham will not be the last victim of Israeli terror," he said in a statement.
Reactions were quick to come from Gaza as well, with Hamas publishing a statment saying, "Hamas spokesman Husam Badran stated that martyrdom of the 28-year-old Mom Riham Dawabsheh emphasizes the size of the Israeli crime committed against the Dawabsheh family."
The statment continued to say that, "In a press statement on Monday, Badran called on the Palestinian resistance in the West Bank to carry out novel attacks that would deter the Israeli occupation and settlers.
He confirmed that the "Palestinian resistance in the occupied West Bank is in a state of escalation, moving towards a full and comprehensive confrontation with the Israeli occupation in order to change the facts on the ground, noting that the Palestinian people and resistance will never be broken."
Prime Minister Benjamin Netanyahu also expressed his, "condolences to the Dawabsha family following the death of Rihad Dawabsha who was critically wounded in the act of terrorism in Duma, saying that the security forces are doing their utmost to apprehend the assailants and bring them to justice."