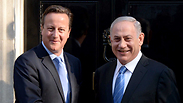 Netanyahu and Cameron meet
Photo: Avi Ohayon, GPO
Prime Minister Benjamin Netanyahu told British premier David Cameron on Thursday that he was willing to resume peace negotiations with the Palestinians.

"I want to say here in 10 Downing Street, and reaffirm again that I am ready to resume direct negotiations with the Palestinians with no conditions whatsoever to enter negotiations, and I'm willing to do so immediately," Netanyahu said.

Netanyahu is in London to discuss cooperation in security and technology with Cameron.

"The Middle East is disintegrating under the twin forces of militant Islam: The militant Sunnis led by ISIS and the militant Shiites led by Iran. And I believe that we can cooperate in practical ways to roll back the tide of militant Islam both in the Middle East and in Africa altogether," he said.

"The future belongs to those who innovate. Britain and Israel are two great centers of technology. Israel is a global hub of innovation, especially in cyber security. And I think that if we pull our resources together we can offer a better future and great prosperity," he added.

Netanyahu was welcomed to the British capital on Wednesday by some 300 protesters calling for his arrest and waving "Free Palestine" signs.

Minor scuffles with police broke out as protesters surged into the main road outside Downing Street.

Already 107,000 people in Britain have signed an online petition for Netanyahu's arrest after last year's fighting between Israel and Hamas in Gaza.

"We're here because we feel that Netanyahu should pay for his war crimes," said 21-year-old student Marion Tehami. "We're here to protest and let him know that he's not welcome in our country."

A short distance away in a separate cordoned off area, about 50 pro-Israel demonstrators waved the Israeli flag.

Britain says visiting heads of state have immunity from legal process and thus cannot be arrested.

In a statement, the government said on Tuesday: "We recognize that the conflict in Gaza last year took a terrible toll.

"However the prime minister was clear on the UK's recognition of Israel's right to take proportionate action to defend itself, within the boundaries of international humanitarian law."

Peace talks collapsed in April 2014 over Israeli settlement-building in the West Bank and East Jerusalem, areas Palestinians seek for a state, and after Abbas angered Israel by reaching a unity deal with the Islamist group Hamas in Gaza.

Reuters contributed to this report.