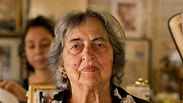 Sarah Stern
Photo: Yuval Hen
Sarah Stern, the owner of Café Tamar, and one of the symbols of Sheinkin Street in Tel Aviv, was laid to rest Thursday, a day after she passed away at the age of 90. Stern ran the café for 60 years, and closed it only three months ago.

Knesset Member Ayelet Nahmias-Verbin (Zionist Union), Stern's granddaughter, said after the death of her grandmother, "My wonderful grandmother Sarah, a beautiful person, exciting, unique, and fearless, left us on Wednesday morning. I stroked her hands and her kind face until the last minute. I thanked her for all she did for us and for the great love that she brought to our lives. I can not imagine my life without her, our big family without her, but I know that she and Café Tamar will be with us forever."

Café Tamar was one of the first cafes in Tel Aviv. It served as a home to many artists and intellectuals. This summer it closed after 74 years of operation. Stern would arrived every morning at 6am and left only at nighttime. In June, Tel Aviv Mayor Ron Huldai held his last city council at the cafe.

Café Tamar opened in 1941, and in 1956 it was bought by Avraham and Sarah Stern. In 1966, Avraham died and Sarah continued to run the cafe on her own.

In an interview Stern gave to Lea Golda Holterman two years ago, she said: "This street, Sheinkin Street, died. Once many people came here but now it's mainly empty. Only on Friday do they all come around and I, as usual, am here from six in the morning until eight o'clock at night. Who doesn't come here? Judges, mayors, film directors, poets, artists, writers. And why? Because of the mess! We are free, everyone feels at home here."

Many journalists, writers, poets and artists made Café Tamar their home, including Natan Alterman, Yoram Kaniuk, Amos Lavi, Putchu and Shmulik Kraus. In 1989, then-neighbor Yair Lapid immortalized the place in the song "She lives on Sheinkin Street," performed by the band Mango, and since then there is hardly an Israeli who doesn't know Café Tamar.

Stern constantly tried to postpone retirement and the closure of the cafe. "I consulted with my daughters and grandchildren and this is what was decided," Stern said at the time, sighing, "but it is very difficult. Maybe now I'll have more time with the grandchildren."