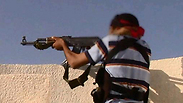 התקפה מתקפה מתקפת טרור משולבת סיני דאעש המדינה-האסלאמית
The United States is sending an additional 75 troops and other military assets to Egypt's Sinai Peninsula to bolster the security of international peacekeepers, who have come under attack from militants in recent days, the Pentagon said on Thursday.

Pentagon spokesman Peter Cook said the deployment included a light infantry platoon and forward surgical teams, as well as equipment and vehicles.

"Our concern right now, our top priority, is the safety and security of those US personnel there," Cook said.

The announcement came a week after bomb attacks wounded six soldiers, including four Americans, who were assigned to the Multinational Force and Observer (MFO) peacekeeping mission. Cook said planning began before that incident.

The MFO was created as a result of the 1979 peace treaty between Egypt and Israel and is based in Sinai, the peninsula that lies between Israel, the Gaza Strip and the Suez Canal.

There are more than 700 US troops are currently based in Sinai, the majority of whom are in the southern part of the peninsula, said Pentagon spokesman Major Roger Cabiness.

Israel has called on Egypt to crack down on growing lawlessness in the Sinai, which has become a hideout for jihadi groups opposed to Israel.

Islamist militants were suspected of killing 16 border guards last month in North Sinai, prompting Egypt to send armored vehicles and hundreds of troops in the biggest build-up in the demilitarized zone since Egypt's 1973 war with Israel.