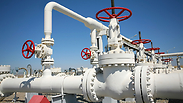 Gas pipeline
Photo: Shutterstock
Jerusalem is reviewing a proposal to lay a pipeline for transporting natural gas between Israel and the Gaza Strip, Ynet has learned.
According to the project, proposed by Qatar, the pipeline would connect Israel to Gaza's power plant, and in this manner Israel will transfer natural gas to operate the plant and thus alleviate the crisis in coastal territory. The power plant currently supplies Gaza residents only eight hours of electricity a day.
Under the plan, the Palestinian Authority will bear the costs of the gas transferred. Qatar has offered to finance part of the project, and some is supposed to be financed by private funds under the Palestinian Authority's management.
Qatar proposed the project for laying the pipeline through the mediation of its emissary to the rehabilitation of the Gaza Strip, Mohammed Imadi. The Qatari official has visited Gaza several times in recent months, and six months ago, Ynet revealed that he met with Brig. Gen. Yoav Mordechai, then Israel Defense Forces' Coordinator of Government Activities in the Territories (COGAT).
COGAT has recently been doing tests for laying the gas pipeline between Israel and the Gaza Strip, pending approval from the government.